Directors with Cult Status: Ed Wood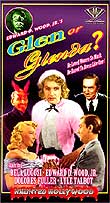 Oft-maligned Ed Wood has generally been regarded as the worst Hollywood film-maker of all time - and therefore has a number of classic cult films in his filmography. His directorial debut film was titled Glen or Glenda? (1953) (aka I Changed My Sex, I Led Two Lives, The Transvestite, or He or She) - about cross-dressing, with Wood starring as a transvestite struggling with his addiction to angora, and Bela Lugosi as the narrator. The comically-awful Bride of the Monster (1955) displayed the following teaser on its posters: "The Screen's Master of the Weird in his Newest and Most Daring Shocker!" It featured Dracula's Hungarian-accented and aging Bela Lugosi in his first (and last) substantial role in a Wood production, as Dr. Eric Vornoff -- an expatriate Russian mad scientist in search of a way to use atomic radiation to mutate humans into superhumans. His crazed, monstrous man-beast assistant Lobo was played by Swedish wrestler Tor Johnson. This was Lugosi's last speaking film role.
[In tribute to the maverick director, he was the subject of Tim Burton's biopic Ed Wood (1994), inspired in part on the exhaustive biographical book Nightmare of Ecstasy: The Life and Art of Edward D. Wood Jr. by Rudolph Grey. The film starred Johnny Depp as the quirky, transvestite film director of iconic cult films. Martin Landau won an Oscar for playing horror legend Bela Lugosi in the film. Burton's film told the story of the making of three of Wood's most well-known films featuring Lugosi: Glen or Glenda?, Bride of the Monster and Plan 9 from Outer Space. Ted Newsom's campy documentary Ed Wood: Look Back in Angora (1994) used Wood's own films as an autobiographical look at his life.]
Eccentric Wood's real masterpiece about invading aliens in California who animated the dead was Plan 9 From Outer Space (1959) - often considered the absolute worst or dumbest film ever made. Its legendary special effects included Cadillac hubcaps as flying space saucers. It also featured a post-death appearance of Bela Lugosi (advertised as "Almost Starring Bela Lugosi") in the role of "The Ghoul Man." [A documentary on the film, titled Flying Saucers Over Hollywood: The Plan 9 Companion (1992), was 111 minutes in length, over a half hour longer than the original film!]
In the decade of the 60s (until his death of alcohol abuse in late 1978 at age 54) when he lost investment backing for his projects, Wood turned to writing sexy pulp novels, and to filming short porno 'loops' for coin-operated booths in sex shops. He also descended into the realm of soft-core porn film-making as a writer and/or director - in many of these films, a bloated, alcoholic Wood would make an appearance, often indulging in his own fetishes (including his noted cross- dressing) and making long, rambling speeches.
The soft-core porno film Orgy of the Dead (1965), with Wood screenwriting and adapting his own novel, was another stunning example of awful film-making - although not directed by Wood. Wood's final film (with the pseudonym Don Miller in the credits) was the low-budget, porn (or 'smut') film Necromania (1971), subtitled A Tale of Weird Love, that was shot in less than a week, and made in two versions (soft-core and hard-core). It told the story of Danny and Shirley, a young couple who visited a mysterious necromancer named Madame Heles (in her sex clinic and funeral parlor) for help with Danny's impotence. The hands-on lessons they were taught involved a coven of witches, simulated sex with painted skulls, topless chanting and spells, and an extended sex scene in a coffin.
Schlock B-director Fred Olen Ray hired Ed Wood in 1978 to write an intentionally cheesy script called Beach Blanket Bloodbath, but Wood died before the script was finished. [In 1985, Ray filmed a short 4-minute clip of test footage of the unsold material.] Twenty years after Wood's death, Billy Zane co-produced and starred in the extremely awful and unwatchable I Woke Up Early the Day I Died (1998), which was based on Wood's last work. It had a dialogue-less screenplay (save for some off-screen narration), an irritating and garbled-noise soundtrack, and a cameo by Ed Wood's widow, Kathy.
Directors with Cult Status: David Lynch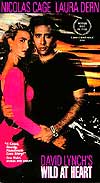 Director David Lynch's cutting-edge, unique work has often been regarded as cultish, absurdish and campish. His nightmarish, avant-gardish first film Eraserhead (1977) contained many baffling, existentialist images of urban family life in a post-apocalyptic setting - in particular, the sights of a shock-haired man and a mutant baby. Then, his next film was the atypical real-life story Elephant Man (1980), with John Hurt as the grotesquely-disfigured title character John Merrick in Victorian London who was discovered at age 21 by Dr. Frederick Treves (Anthony Hopkins). Plaster castings from the actual head of the famous deformed 'freak' were used to create the makeup for the actor in the film (a job requiring twelve hours). Although nominated for eight Academy Awards, it came away empty-handed. Lynch's bold landmark murder mystery about a severed human ear and tale of sexual perversion and kidnap, Blue Velvet (1986) - was a disturbing look at the hidden, bizarre world behind a college student's picture-postcard, all-American home town, with Dennis Hopper as a deranged, sadistic, gas-sucking lunatic named Frank Booth.
Lynch's sex-crazed lovers-on-the-run film Wild at Heart (1990) was also filled with dark, odd, and confusing characters, including Nicolas Cage as Sailor and Laura Dern as Lulu, and numerous twisted Wizard of Oz references. It won the Palme D'or at the Cannes Film Festival in 1990. Twin Peaks: Fire Walk With Me (1992) was a prequel to the popular TV series of the same name, about the last week in the life of high-school beauty queen Laura Palmer (Sheryl Lee). After a long absence, Lynch directed the confusing, unsettling thriller Lost Highway (1997) - a 21st century noir, followed by the traditional drama The Straight Story (1999) about a 73 year-old Iowa man (Richard Farnsworth) who embarked on a riding lawn-mower odyssey to see his estranged, dying older brother. Lynch was back to form with the enigmatic, multi-layered, surreal mystery Mulholland Dr. (2001) with Naomi Watts and Laura Elena Harring as blonde and brunette Hollywood starlet wannabes - the film brought Lynch a Best Director nomination. In Lynch's Hollywood satire Inland Empire (2006), Laura Dern starred as actress Nikki Grace whose life seemed to confusingly merge and intersect with her character in her starring role (as Susan Blue) in a new movie.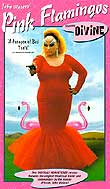 Directors with Cult Status: John Waters
Another director/writer John Waters (dubbed "The Prince of Puke") also produced a unique crop of intentionally bizarre, crude, kitsch and bad taste-laden cult films with eccentric oddball characters - his films were a favorite on the midnight movies circuit. His first feature film was the black comedy trash film Mondo Trasho (1969), followed by the gross-out Pink Flamingos (1972) - about a grotesque, transvestite trailer park matron named Babs Johnson (played by overweight transvestite Divine) who literally eats real dog feces in a competition to become the 'World's Filthiest Person Alive'. Other films included the garish film Polyester (1981) - a spoof on suburbanite, middle class soap operas and the first film shot in Odor-ama, and Hairspray (1988) - a campy satire of the early 60s featuring beehive bouffant hair and 60s music and dancing.
Directors with Cult Status: Sam Raimi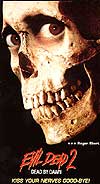 Of the more recent, new breed of low-budget horror films, creating both laughs and screams in scenes of raw energy, splatter-master writer-director Sam Raimi's films stand out with his cult favorite star Bruce Campbell (as the hapless, chain-saw wielding Ash Williams). The Evil Dead trilogy is an exceptional example of tongue-in-cheek, slapstick, cultish horror, including:
Raimi's feature debut film, the original chilling and gory Evil Dead (1983), about a group of five college-aged kids who venture for a night to a woodsy mountain cabin, and find that they unwittingly unleash the spirits of the dead, turning four of the five into ghoulish zombies with super-human strength
its superior, manic and gory sequel Evil Dead II: Dead by Dawn (1987)
and a third incarnation transported to the Dark Ages, Army of Darkness (1993)
Raimi's films feature cartoon-like action, comedy, horror, otherwordly spirits, bloody gross-outs of gore, and non-stop energized craziness. For example, in one sequence in Evil Dead 2, main hero/actor Bruce Campbell engages in a violent battle with his own hand.
Directors with Cult Status: The Coen Brothers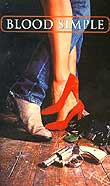 Brothers Joel (director) and Ethan (producer) Coen have produced some quirky, stylish, bizarre, off-beat films with tremendous followings. Their films include:
Blood Simple (1985) with delicious plot twists in a sleazy, ingenious tale of murder and double cross
Raising Arizona (1987), a baby-kidnapping caper that includes a wild chase finale
a complex, stylish gangster film and intriguing black comedy, Miller's Crossing (1990), in which Danny Boy plays on a gramophone when crime boss Leo (Albert Finney) Tommy-gunned would-be assassins
the dark comedy of a 30s Hollywood - the story of a New York playwright lured to Hollywood to write a wrestling picture but experiencing writer's block in Barton Fink (1991)
the visually astonishing The Hudsucker Proxy (1994)
and one of their latest films that has brought mainstream recognition, Fargo (1996)
also, the absurdist comedy crime film The Big Lebowski (1998) featuring Jeff Bridges as Dude - a 'laid-back,' unemployed, and blundering stoner in a noirish, Raymond Chandler-esque Los Angeles
Directors with Cult Status: Roger Corman
Independent film-maker Roger Corman, known for his low-budget, cheesy exploitation films that populated drive-ins, made films that ranged from Westerns and gangster films to science-fiction, teen-age hot rod and rock 'n' roll movies. He churned out numerous cult status hits, including the original version of the classic black comedy Little Shop of Horrors (1960) with little-known actor Jack Nicholson, Bucket of Blood (1959) about a busboy who keeps lifelike statues of deceased people and animals, the many Edgar Allan Poe horror film adaptations starring Vincent Price, the first 'biker' film The Wild Angels (1966) (with Peter Fonda and Nancy Sinatra), one of the earliest 'psychedelic' films of the late 60s The Trip (1967) (scripted by Jack Nicholson), and Frankenstein Unbound (1990) in his latter years. In 1970, he founded New World Pictures (1970-1983), his own production and distribution company, specializing in low-budget, exploitation films.
In addition to Jack Nicholson and Peter Fonda, producer/director Corman - dubbed "the Orson Welles of Z-Pictures" by LA Times' critic Kenneth Turan, recognized the talented abilities and jump-started the careers of the following in the 60s and 70s:
Francis Ford Coppola -- The Terror (1963), uncredited director; also Dementia 13 (1963), director and writer
Peter Bogdanovich -- The Wild Angels (1966), uncredited writer, cinematographer and actor, and assistant to director; also Targets (1968), director, writer, and actor
Bruce Dern -- The Wild Angels (1966), actor; also The Trip (1967)
Robert De Niro -- Bloody Mama (1970), actor
Stephanie Rothman -- The Student Nurses (1970), director and writer
Martin Scorsese -- Boxcar Bertha (1972), director and uncredited actor
Jonathan Demme -- Caged Heat (1974), director and writer
Sylvester Stallone -- Death Race 2000 (1975), actor
Joe Dante -- Hollywood Boulevard (1976), director and uncredited actor; also Piranha (1978), also scripted by John Sayles
Ron Howard -- Eat My Dust! (1976), actor; also Grand Theft Auto (1977), director, actor and writer
Battle Beyond the Stars (1980) -- scripted by John Sayles, art design by James Cameron

Aptly, Corman's autobiography (1990) was titled How I Made a Hundred Movies in Hollywood and Never Lost a Dime.
Directors with Cult Status: Russ Meyer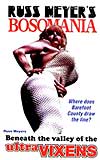 The master of gratuitous "sexploitation" nudity with big-breasted stars was Russ Meyer - often called "King Leer." He pioneered a 'skin-flicks' genre of exploitative, campy, and often humorous films in the 60s and 70s, filled with sex, nudity and violence, which seemed to focus almost entirely on well-endowed, curvaceous, take-charge, liberated Amazonian women with large breasts (and slim waists) in accidentally-funny, trashy and tasteless films. The cheesecake films with bosomy sight-gags were populated by attractive, semi-porn stars such as Haji (who starred in numerous films), Kitten Natividad, and Erica Gavin.
He was dubbed "King of the Nudies" for his release of The Immoral Mr. Teas (1959) - it ushered in the age of 'nudie-cutie' films. His most famous film was the classic Faster, Pussycat! Kill! Kill! (1966) with nasty, thrill-seeking go-go dancers who headed into the desert to romp and roughhouse, starring Tura Satana and Haji. Other notable classic cult films, often exhibiting his breast fixation, included: Fanny Hill: Memoirs of a Woman of Pleasure (1965), Mondo Topless (1966), Beyond the Valley of the Dolls (1970) - the first of Meyer's major studio pictures, with a screenplay by film critic/reviewer Roger Ebert, Supervixens (1975), and his final film Beneath the Valley of the Ultravixens (1979) - the third in a trilogy of Vixen films, with super-endowed actress Kitten Natividad, and co-written by Roger Ebert (under the pseudonym R. Hyde). In all, Meyer produced, directed, financed, wrote, edited, and shot 23 of these tantalizing films.
Directors with Cult Status: Jonathan Demme

Jonathan Demme, a quirky B-list maverick film-maker (and writer) who first gained experience with prolific independent cult director Roger Corman, debuted with his first feature film in the mid-70s - the 'women-in-prison,' nudity-filled classic Caged Heat (1974). It was followed by the offbeat crime spree film about three generations of female outlaws titled Crazy Mama (1975) with Ann Sothern and Cloris Leachman, the revenge vigilante fantasy Fighting Mad (1976) with Peter Fonda, his first post-Corman production - the slice-of-life comedy-drama about CB-radios titled Citizen's Band (1977) (aka Handle with Care), and the Hitchcockian psychological thriller Last Embrace (1979) with Roy Scheider and Janet Margolin and an effective Rozsa score - his first big-budget studio production. He gained considerable prominence with the quirky favorite Melvin and Howard (1980), the true story of gas-station owner Melvin Dummar who reportedly gave a ride to billionaire hitchhiker Howard Hughes. The film provided a supporting Oscar win for Mary Steenburgen and a Best Original Screenplay Oscar for Bo Goldman.
Demme's next films were Swing Shift (1984) with war-time working girl Goldie Hawn (and a supporting Actress nomination for Christine Lahti), the Talking Heads concert/documentary film hit Stop Making Sense (1984) chronicling their three-day 1984 gig at Hollywood's Pantages Theater, and more oddball cult favorites: the colorful road film and screwball romantic comedy Something Wild (1986) with Jeff Daniels and Melanie Griffith, the Spalding Gray one-man show film Swimming to Cambodia (1987), and the black comedy Married to the Mob (1988). With the commercial and critical success of the psychological horror film The Silence of the Lambs (1991), Demme became a full-fledged A-list director, and followed up with the AIDS-drama Philadelphia (1993).
Directors with Cult Status: Others
In the ultra-low-budget, spooky B horror film Carnival of Souls (1962) by Harold (Herk) Harvey, a young woman wandered into a Kansas town after a near-fatal car accident into a river, where she confronted nightmarish circumstances - dancing dead people. Director Mark Robson's infamous, trashy and vulgar expose, Valley of the Dolls (1967), based on the best-selling novel by Jacqueline Susann, was a horrible, unintentionally funny soap-opera with bad dialogue about the lives of three aspiring women (Barbara Parkins, an overwrought Patty Duke, and Sharon Tate) whose careers became mired in drugs and alcohol.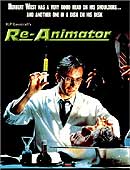 One excessive film that came close to equaling the degree of techno-horror found elsewhere was the black comedy Re-Animator (1985), an outrageous zombie film that answered the question: "Can a severed head make love?" Tobe Hooper's very early, low-budget slasher film The Texas Chainsaw Massacre (1974) dramatized in documentary-style (since it was based on the real-life murder spree of Ed Gein) the terrorizing of a group of hippies by a clan of cannibalistic freaks (led by Leatherface) in the Texas badlands.
Additional cult favorites include the quirky, nihilistic and lunatic sci-fi comedy by Alex Cox, Repo Man (1984), a story about an LA teenage punkrocker who is apprenticed in the craft of repossessing cars - in particular, the tracking down of a 1964 Chevy Malibu; or Tim Burton's directorial debut film Pee Wee's Big Adventure (1985), an odyssey of nerdish, boy-man Pee Wee's search for his Red Rocket bicycle in the basement (!) of the Alamo; or Martha Coolidge's Real Genius (1985), a witty tale of campus physics nerds whose experiments are unwittingly being used for a US government death weapon; or the silly horror spoof Attack of the Killer Tomatoes (1979).
Director Mel Stuart's musical cult film Willy Wonka and the Chocolate Factory (1971) has always been regarded as one of the most favored children's films of all-time, with Gene Wilder as the eccentric head of the factory of sweet confections. And Sidney Lumet's unusual, kitschy and dark The Wiz (1978), an adaptation of the classic 1939 film and the hit Broadway musical, starred singer Diana Ross as Dorothy and served up an allegorical commentary on Black America. Rob Reiner's The Princess Bride (1987) was an offbeat but classic fairy-tale fantasy (with a story-telling grandfather) featuring a Princess, her stablehand true love, a wicked Prince, pirates and bounty hunters, and an old Jewish faith-healer (Billy Crystal).

Jean Negulesco's campy soap opera The Best of Everything (1959), with Joan Crawford (as a mean and difficult editor and career woman), examined the difficult lives of three secretaries in a typing-steno pool in a magazine publishing company and their encounters with men. Frank Perry's very watchable, melodramatic tabloid Mommie Dearest (1981) that starred an over-the-top, scenery-chewing Faye Dunaway, was intended to be a serious biopic of screen star Joan Crawford, since it was based on daughter Christina Crawford's trashy and vengeful biography. The camp classic film, however, is most remembered for its delicious dialogue, such as: "Tina!! Fetch me the axe!!", "No ... wire ... hangers .... EVER!!!!", and "Don't f--k with me, fellas." The film inspired cultish audience participation a la Rocky Horror, with fans appearing with face creme, wire hangers, and cans of floor cleaner. Brian DePalma's bloodletting and violent gangster epic, Scarface (1983) (with a script from director Oliver Stone) featured a tour-de-force of acting from Al Pacino as the title character anti-hero - a Cuban refugee turned cocaine-snorting, wealthy drug kingpin in Miami.
The surrealistic, cult-followed Trust (1991) - director Hal Hartley's second sardonic feature, was an unusual 'romantic comedy' about an obnoxious, disillusioned and pregnant high school dropout in a "trusting" relationship with an older, suicidal and volatile electronics expert. Writer/director John Carpenter's science-fiction cult film They Live (1988) starred wrestler Roddy Piper as a hard-hat construction worker who saw that lizard-like aliens had invaded the country after donning special sunglasses.
Writer/director Todd Solondz, a favorite cult director, had his first major success with the black comedy Welcome to the Dollhouse (1995), a brutally-honest look at the persecution of a young junior high student by her classmates. [He re-examined this theme in his later film Palindromes (2004).] His next film was the challenging, controversial dark comedy of sex and perversion unusually titled Happiness (1998). It was about a predatory, suburban pedophile father/family man Bill Maplewood (Dylan Baker), a psychiatrist by profession, who in a startling scene shot with slow-motion closeups, gazes with affection at an 11 year-old boy (!), one of his son's classmates, during a little-league baseball game.
Another cult director, Darren Aronofsky, contributed the Kafka-esque Pi (1998) - his debut film, shot in grainy B/W, about the slow disintegration into madness of a paranoid and neurotic mathematician-genius. His next visually-striking film, the initially NC-17 rated Requiem for a Dream (2000), which was recognized with a Best Actress nomination for veteran actress Ellen Burstyn, adapted Hubert Selby's own novel of the same name, about the escapist descent of various lives by drug use.