1965
The winner is listed first, in CAPITAL letters.
Best Picture


THE SOUND OF MUSIC (1965)


Darling (1965, UK)


Doctor Zhivago (1965, US/UK)


Ship of Fools (1965)


A Thousand Clowns (1965)
Actor:
LEE MARVIN in "Cat Ballou", Richard Burton in "The Spy Who Came In From the Cold", Laurence Olivier in "Othello", Rod Steiger in "The Pawnbroker", Oskar Werner in "Ship of Fools"
Actress:
JULIE CHRISTIE in "Darling", Julie Andrews in "The Sound of Music", Samantha Eggar in "The Collector", Elizabeth Hartman in "A Patch of Blue", Simone Signoret in "Ship of Fools"
Supporting Actor:
MARTIN BALSAM in "A Thousand Clowns", Ian Bannen in "The Flight of the Phoenix", Tom Courtenay in "Doctor Zhivago", Michael Dunn in "Ship of Fools", Frank Finlay in "Othello"
Supporting Actress:
SHELLEY WINTERS in "A Patch of Blue", Ruth Gordon in "Inside Daisy Clover", Joyce Redman in "Othello", Maggie Smith in "Othello", Peggy Wood in "The Sound of Music"
Director:
ROBERT WISE for "The Sound of Music", David Lean for "Doctor Zhivago", John Schlesinger for "Darling", Hiroshi Teshigahara for "Woman in the Dunes", William Wyler for "The Collector"
---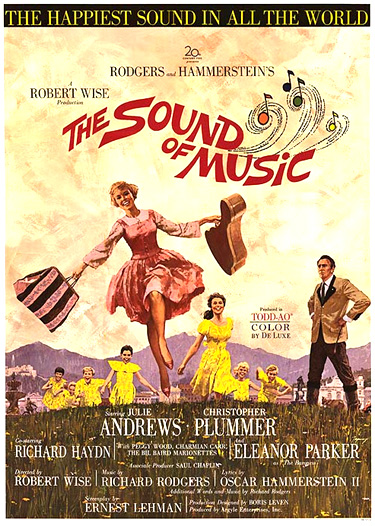 This would be the first year that the awards ceremony (on April 18, 1966) would be broadcast in color on television.
The two top films in the Best Picture Oscars race in 1965, The Sound of Music and Doctor Zhivago, each had the same number of nominations (ten), and equally divided the same number of Oscars (five):
The top winner was 20th Century Fox's and Robert Wise's The Sound of Music, Rodgers and Hammerstein's Broadway musical of the same name brought to the screen. It was the real-life story of unsuited postulant Maria (Julie Andrews) who left Austria's Nonnberg Abbey, became governess to seven motherless Von Trapp children, and helped lead the singing family out of Nazi-occupied Austria to Switzerland (and then to America).
The Sound of Music won Best Picture, Best Director (Robert Wise), Best Musical Score, Best Editing, and Best Sound. [This win gave the musical genre consecutive Best Picture wins - My Fair Lady (1964) had won the previous year.] The Sound of Music also topped Gone With The Wind (1939) as the most commercially-successful, money-grossing film to date - thereby saving its studio 20th Century Fox from bankruptcy. Best Director and Best Picture winner Robert Wise had won the same two awards four years earlier (for West Side Story (1961)), but now he didn't have to share his Best Director award with Jerome Robbins.
The swoon-inducing romantic epic and spectacle, Doctor Zhivago, was British director David Lean's follow-up to Lawrence of Arabia (1962) - a Russian epic and a colorful film adaptation of Boris Pasternak's novel. Doctor Zhivago won five Oscars: Best Adapted Screenplay (Robert Bolt), Best Color Cinematography (Freddie Young), Best Art Direction, Best Original Musical Score (Maurice Jarre), and Best Costume Design (Phyllis Dalton).
The other three Best Picture nominees included:
Stanley Kramer's direction of Katherine Anne Porter's adapted novel, Ship of Fools (with eight nominations and two wins - Best B/W Cinematography and Best B/W Art Direction/Set Decoration) - it featured a star-studded cast as a group of passengers sailing to Germany in the 1930s (with Vivien Leigh in her final film role).
the satirical British film about the shallowness of the fashion model scene and the empty life of an amoral model in director John Schlesinger's film, Darling (with five nominations and three wins - Best Actress, Best Story and Screenplay, and Best B/W Costume Design)
the low-budget comedy/drama by director Fred Coe (with his debut film), A Thousand Clowns (with four nominations and one win - Best Supporting Actor), written by Herb Gardner and based upon his Broadway play about a non-conformist, drop-out Manhattan writer
Only three of the directors of the Best Picture nominees were Best Director nominees. Two additional nominees were Japanese director Hiroshi Teshigahara (with his second feature film) for his allegorical drama about a scientist studying insects in Japanese sand dunes, Woman in the Dunes, and William Wyler (with the last of his record twelve nominations as director) for the un-nerving drama The Collector (with three nominations and no wins) - an adaptation of John Fowles' novel about a psychotic butterfly collector who kidnaps a girl for his collection. [Teshigahara was the first Japanese director to receive a Best Director nomination and the first non-white director ever nominated.]
[William Wyler's previous directorial nominations and three awards in a distinguished career included: Dodsworth (1936) (nom), Wuthering Heights (1939) (nom), The Letter (1940) (nom) , The Little Foxes (1941) (nom), Mrs. Miniver (1942) (win), The Best Years of Our Lives (1946) (win), The Heiress (1949) (nom), Detective Story (1951) (nom), Roman Holiday (1953) (nom), Friendly Persuasion (1956) (nom), and Ben-Hur (1959) (win).]
Neither of the two major films of the year, The Sound of Music or Doctor Zhivago, received any Best Actor nominations. Even more astonishing is the fact that the other prominent nominees in the Best Actor category were defeated by Lee Marvin (with his sole career nomination - and Oscar win) who won the award for his eccentric dual role as cold-eyed, ruthlessly evil desperado Tim Strawn (with an artificial silver nose) and Strawn's aging, once-famous, drunken and whiskey-soaked twin gunman Kid Shelleen in the amusing, small-budget western spoof 'sleeper' film directed by Elliot Silverstein, Cat Ballou (with five nominations and one win - Best Actor). It was one of the rare and unusual times that the Academy rewarded and recognized a comedy performance in a sleeper film. [Previous Best Actor winners for a comic performance include: Clark Gable for It Happened One Night (1934), and possibly James Stewart for The Philadelphia Story (1940).]
The other nominees in the Best Actor category included:
Richard Burton (with his fourth of seven unsuccessful nominations) as Alec Leamas - an unglamorous, disillusioned British spy in director Martin Ritt's film adaptation of John Le Carre's novel, The Spy Who Came in From the Cold (with two nominations and no wins)
Laurence Olivier (with his seventh nomination) in blackface! in the title role of the Moor in director Oliver Parker's film of Shakespeare's Othello (with four nominations and no wins)
Oskar Werner (with his sole nomination in his first English-language film role) as Dr. Schumann - the on-board, dying doctor and lover of Oscar-nominated Simone Signoret in Ship of Fools
the heavily-favored Rod Steiger (with his second of three career nominations) as Sol Nazerman, a psychologically-scarred Nazi concentration camp survivor in a Harlem pawn shop in Sidney Lumet's The Pawnbroker (the film's sole nomination). Two years later, Steiger finally won an Oscar for his role as a Southern sheriff in In the Heat of the Night (1967). [Oskar Werner was defeated by Ship of Fools co-star Marvin - Werner also co-starred with Burton in The Spy Who Came In From the Cold as an E. German agent.]
In the Best Actress category, only one of the nominees was American - Elizabeth Hartman. Three of the nominees were British (Christie, Andrews, and Eggar), and one was French (Signoret).
The winner in the Best Actress category was twenty-four year-old Julie Christie (with her first of three career nominations - and her sole Oscar win) for her role as Diana Scott - an ambitious, vain, irresponsible, ruthless, promiscuous, and selfish hip, mini-skirted London model who tempts a serious journalist (Dirk Bogarde) to leave his wife and family, then tires and becomes a decadent, international celebrity/swinger, and finally ends up living a meaningless life as a disillusioned, bored wife of an Italian prince in Darling. It was notable as the first Oscar-winning performance for a nude scene. (Note: Christie also appeared in one of the year's biggest pictures - Doctor Zhivago, but was un-nominated for that role. Christie would be nominated three more times in her career for her role as Mrs. Miller, madam of a brothel in Robert Altman's McCabe & Mrs. Miller (1971), as Phyllis Mann in Afterglow (1997), and as afflicted Alzheimer's patient Fiona Andersson in Away From Her (2007).)
The other Best Actress nominees included:
Simone Signoret (with her second and last career nomination) as La Condesa - Oskar Werner's drug-addicted countess/mistress in Ship of Fools
Samantha Eggar (with her sole nomination) as Miranda Gray - the stalked art student/victim of butterfly collector Terence Stamp in William Wyler's The Collector
Elizabeth Hartman (with her sole nomination in her film debut) as Selina D'Arcey - a blind white girl involved in a racial romance (with Sidney Poitier) in director Guy Green's A Patch of Blue (with five nominations and one win - Best Supporting Actress)
the other 'Julie': Julie Andrews (with her second of three career nominations) as the postulant nun Maria turned cheerful governess to seven Von Trapp children in Austria in The Sound of Music. [In the previous year, Andrews had received a Best Actress win for Mary Poppins (1964).]
Among the Best Supporting nominees, there were three from Othello - it was the 3rd film in Academy history to receive four acting nominations without a Best Picture nomination (this also occurred in 1936, 1948, and 2008):
Frank Finlay (with his sole nomination) as the villainous, scheming Iago
Joyce Redman (with her second of two unsuccessful career nominations) as Iago's wife Emilia
Maggie Smith (with her first nomination) as the tragic Desdemona, Othello's innocent wife
The Best Supporting Actor winner was Martin Balsam (with his sole Oscar nomination - and win) as Arnold Burns, the agent brother of the oddball non-conformist and unemployed kiddie-show writer Jason Robards, Jr. - they both try to avoid social workers who threaten the guardianship of their 12 year old nephew in the comedy-drama A Thousand Clowns.
The other supporting actor nominees were:
Tom Courtenay (with his first of two unsuccessful career nominations) for his role as Russian revolutionary Pasha/Strelnikoff in Doctor Zhivago
Michael Dunn (with his sole nomination) for his role as compassionate, philosophizing dwarf Glocken in Ship of Fools
Ian Bannen (with his sole nomination) for his role as Crow in Robert Aldrich's survival-adventure film The Flight of the Phoenix (with two nominations and no wins), about a downed plane in the Sahara desert
The Best Supporting Actress winner was Shelley Winters (with her third of four career nominations) as Rose-Ann D'arcy - the over-bearing, slatternly, amoral, shrewish mother of blind girl Elizabeth Hartman (who befriends and falls in love with a young black man - unaware of his skin color) in A Patch of Blue. [This was Winters' second Best Supporting Actress award, six years after her first win in the same category for The Diary of Anne Frank (1959). She became the first actress to win two Oscars in the category. She was the only actress to be twice honored in the "supporting" category, a record that she held until 1994 when Dianne Wiest won her second "supporting" award.]
The remaining Best Supporting Actress nominees were:
Peggy Wood (with her sole nomination) as the Mother Abbess in The Sound of Music
Ruth Gordon (with her first of two career nominations) as 'the Dealer' (co-star Natalie Wood's mother) in director Robert Mulligan's story of a rising teen star titled Inside Daisy Clover (with three nominations and no wins)
Oscar Snubs and Omissions:
One of the best films of the year was entirely overlooked: Polish director Roman Polanski's first film in English - the British-made, suspenseful character study Repulsion, with Catherine Deneuve as an unstable young French manicurist repulsed by sex. Ivan Dixon was bypassed for his role as Alabama black laborer Duff Anderson in Nothing But A Man. Tony Richardson's farce about the funeral parlor business The Loved One, which included another acting performance by Rod Steiger as Mr. Joyboy, was nomination-less.
Sean Connery, better known for the increasingly-popular James Bond films, was un-nominated for his role as Trooper Roberts, a prisoner in a British desert prison camp, in Sidney Lumet's The Hill. [Connery finally won an Oscar as Best Supporting Actor for his work in The Untouchables (1987) - his sole nomination, despite great performances in The Man Who Would Be King (1975), Robin and Marian (1976) and The Hunt for Red October (1990).]
Inexplicably, writer/producer/director George Stevens' four hour New Testament epic disaster The Greatest Story Ever Told, received five nominations: Best Art Direction, Best Cinematography, Best Costume Design, Best Score, and Best Visual Effects - nominations taken from other deserving films.
Although Julie Christie was nominated - and won - for her role in Darling, she was not nominated for her equally great performance as blonde-haired Lara in David Lean's Russian epic Doctor Zhivago. Rod Steiger, who was nominated as Best Actor for a different film this year, wasn't nominated for one of the best roles of his career in Doctor Zhivago as the nefarious Victor Komarovsky. And two major stars of the year's two film rivals, Christopher Plummer (as aristocratic widower Captain von Trapp in The Sound of Music) and Omar Sharif (as Yuri Zhivago in Doctor Zhivago) were not nominated for Best Actor.
A more memorable performance than the one of Best Supporting Actor winner Martin Balsam was Gene Saks' un-nominated portrayal of the grotesque, obnoxious kiddie-show star "Chuckles the Chipmunk" in A Thousand Clowns.
None of the memorable songs (performed as early music videos) in the Beatles' Help! were nominated, including Help!, Yesterday, It's Only Love, You're Going to Lose that Girl, and Ticket to Ride.