1962
The winner is listed first, in CAPITAL letters.
Actor:
GREGORY PECK for "To Kill a Mockingbird", Burt Lancaster in "Birdman of Alcatraz", Jack Lemmon in "Days of Wine and Roses", Marcello Mastroianni in "Divorce - Italian Style", Peter O'Toole in "Lawrence of Arabia"
Actress:
ANNE BANCROFT in "The Miracle Worker", Bette Davis in "What Ever Happened to Baby Jane?", Katharine Hepburn in "Long Day's Journey Into Night", Geraldine Page in "Sweet Bird of Youth," Lee Remick in "Days of Wine and Roses"
Supporting Actor:
ED BEGLEY in "Sweet Bird of Youth", Victor Buono in "What Ever Happened to Baby Jane?", Telly Savalas in "Birdman of Alcatraz", Omar Sharif in "Lawrence of Arabia", Terence Stamp in "Billy Budd"
Supporting Actress:
PATTY DUKE in "The Miracle Worker", Mary Badham in "To Kill a Mockingbird", Shirley Knight in "Sweet Bird of Youth", Angela Lansbury in "The Manchurian Candidate", Thelma Ritter in "Birdman of Alcatraz"
Director:
DAVID LEAN for "Lawrence of Arabia", Pietro Germi for "Divorce - Italian Style", Robert Mulligan for "To Kill a Mockingbird", Arthur Penn for "The Miracle Worker", Frank Perry for "David and Lisa"
---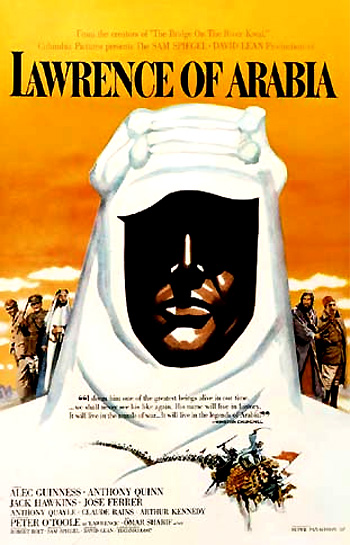 At the height of his directorial career, British director David Lean (and producer Sam Spiegel) repeated their collaborative victory of five years earlier (as director and producer of The Bridge On The River Kwai (1957) - a seven Oscar winner) in 1962. Their new, monumental historical film, Lawrence of Arabia, with ten nominations and seven Oscars, was a blockbuster and deserving Best Film winner. The over three-hour long spectacle/epic of desert pageantry about the adventures of British officer and Arabian desert guerrilla leader T. E. Lawrence (1888-1935) who led the Arab revolt against the Turks in 1917, was derived from Robert Bolt's screenplay. [This was the first of four British-made films that won the top Best Picture Oscar in the decade of the 1960s. The other three were Tom Jones (1963), A Man For All Seasons (1966), and Oliver! (1968).]
The 1962 Best Picture winner's seven awards included Best Picture, Best Director, Best Cinematography, Best Art Direction, Best Sound, Best Film Editing, and Best Musical Score. Naturally, one of its Oscars was for the photography of its magnificent locale - the desert. It remains the only Best Picture winner to have credited roles for actors of only one gender. There was not a single female speaking role - except for a camel named Gladys!
It was Spiegel's third Oscar for Best Picture (earlier wins for the producer were for On The Waterfront (1954) and The Bridge On The River Kwai (1957)). From the 1951 Academy Awards through to the present, according to the Academy's rules, the Best Picture nomination went to the individual producer(s) credited on the film, not to the production company or studio that produced the film. Note: Spiegel became (and remains) the only producer to have his name - and his name only - associated with three Best Picture Oscars, due to this Oscar win.
The other Best Picture nominees included:
Darryl F. Zanuck's 20th Century Fox epic production based on Cornelius Ryan's book, The Longest Day (with five nominations and two wins), another star-studded, documentary-style action/war film about the preparations and events of the Normandy/D-Day Allied landings on June 6, 1944 (which fully deserved its two awards for Special Effects and Black and White Cinematography)
director Morton Da Costa's version of Meredith Wilson's The Music Man (with six nominations and one win - Best Musical Score Adaptation) - a rousing, joyous film set in the turn-of-the-century small town of River City in Iowa
director Lewis Milestone's film Mutiny on the Bounty (with seven nominations - no acting nominations among them, and no wins) - featuring Marlon Brando as Fletcher Christian and Trevor Howard as cold-hearted Captain Bligh - a second and inferior re-make of the 1935 Best Picture winner
Horton Foote's adaptation of Harper Lee's autobiographical tale of a childhood in a southern town in director Robert Mulligan's film, To Kill a Mockingbird (with eight nominations and three wins - Best Actor, Best Screenplay, and Best B/W Art/Set Direction)
Three of the five Best Picture nominees - Warner Bros.' The Music Man, MGM's Mutiny on the Bounty, and Fox's The Longest Day - were not nominated in the Writing, Directing, or Acting categories.
There were five strong Best Actor nominees, with the winner being a sentimental, long-overdue favorite - Gregory Peck won for his role as a thoughtful, soft-spoken, ethical small-town Alabama lawyer/widower of 1932 named Atticus Finch who defends a wrongly-accused black man of rape in director-nominated Robert Mulligan's To Kill a Mockingbird. (This was Peck's sole Oscar win in a long career which accumulated five Oscar nominations. With his win, he became the first California-born actor to ever win.)
Another Best Actor nominee was the critically-favored Best Picture's main star, Irish-born stage actor Peter O'Toole as British military hero T. E. Lawrence, the mysterious, complex and often remote leader of Arab troops/Bedouins on the Allied side against the Turks, who helped British Gen. Allenby destroy the infamous Ottoman Empire. [It was O'Toole's first major film and first nomination out of a total of eight Oscar nominations. His seven other nominations include Becket (1964), The Lion in Winter (1968), Goodbye, Mr. Chips (1969), The Ruling Class (1972), The Stunt Man (1980), My Favorite Year (1982), and Venus (2006). Coincidentally. O'Toole also has the distinctive record of being nominated twice for the same role as King Henry II in Becket (1964) and The Lion in Winter (1968). O'Toole's long string of losses was also experienced by actor Richard Burton (who was nominated and lost seven times for his roles in My Cousin Rachel (1952), The Robe (1953), Becket (1964), The Spy Who Came in From the Cold (1965), Anne of the Thousand Days (1969), Equus (1977), and Who's Afraid of Virginia Woolf? (1966)).]
Other Best Actor nominees included:
first-time nominee Marcello Mastroianni as Ferdinando - a Sicilian count who wishes to murder his unattractive wife so that he can legally re-marry in the comical farce by Pietro Germi, the director-nominated Divorce-Italian Style. [Mastroianni would end up with more Oscar nominations for his foreign language roles - three - than any other actor. His other two nominated films include A Special Day (1977), and Dark Eyes (1987). His nomination in 1962 was seen as an "apology" for being un-nominated the previous year for his most memorable career role as gossip columnist Marcello Rubini in Fellini's Best Director-nominated La Dolce Vita (1961).]
Burt Lancaster (with his third of four career nominations) for the role of imprisoned, convicted murderer and bird expert Robert Stroud in director John Frankenheimer's Birdman of Alcatraz (with four nominations and no wins). [Lancaster's other career nominations were for From Here to Eternity (1953), his sole career win for Elmer Gantry (1960) two years earlier, and later for Atlantic City (1981).]
Jack Lemmon (with his fourth of eight nominations and his third Best Actor nomination), for his first serious, dramatic role, was competing as alcoholic advertising man Joe Clay in director Blake Edwards' Days of Wine and Roses (with five nominations and one win - Best Song)
Four of the Best Actress nominees were in non-sober roles as either alcoholics or drug addicts. The winner in the Best Actress category was Anne Bancroft, who re-created her stage role as wild and rebellious seven year-old Helen Keller's half-blind teacher/mentor Annie Sullivan in Arthur Penn's film The Miracle Worker (with five nominations and two wins - Best Actress and Best Supporting Actress). It was generally acknowledged that the most gripping scene in the film was when Bancroft finally had young Patty Duke as Helen Keller utter the word 'water.' [This would prove to be Bancroft's sole Oscar win out of five nominations for roles in the following films: The Pumpkin Eater (1964), The Graduate (1967), The Turning Point (1977), and Agnes of God (1985).]
The other Best Actress nominees included:
two-time Oscar winner Bette Davis (with her tenth and final Oscar nomination) for her over-the-top playing of the title role as a grotesque, demented child star grown old in director Robert Aldrich's campy horror film What Ever Happened to Baby Jane? (with five nominations and one win - Best B/W Costume Design). If Davis had won, she would have been the first three-time Best Actress winner. (Her Baby Jane co-star Joan Crawford was disappointed that she had not been nominated - but was able to deliver the acceptance speech for an absent Anne Bancroft.)
Lee Remick (with her sole career nomination) as Jack Lemmon's co-dependent alcoholic wife Kirsten Arnesen in Days of Wine and Roses
one-time Oscar winner Katharine Hepburn (with her ninth of twelve career nominations) in one of her greatest performances as the tormented, morphine-addicted mother Mary Tyrone in the re-working of Eugene O'Neill's play Long Day's Journey Into Night (the film's sole nomination)
Geraldine Page (with her third of eight career nominations) as Alexandra Del Lago - an aging, declining movie star opposite co-star Paul Newman in director Nicolas Roeg's Sweet Bird of Youth (with three nominations and one win - Best Supporting Actor)
The Best Supporting Actor award was denied to favored front-runner Egyptian-born Omar Sharif (with his sole career nomination, in a debut appearance in his first English-language film) as Lawrence's handsome Arab friend Sherif Ali in Lawrence of Arabia. The surprise upset winner was Ed Begley (with his sole nomination) as a corrupt political redneck boss named 'Boss' Finley who avenges the seduction of his innocent daughter (Shirley Knight) by Paul Newman in Sweet Bird of Youth. Other competitors included:
Victor Buono (with his sole career nomination in his debut film) as Edwin Flagg, a pianist who accompanies 'Baby Jane' in making a comeback in What Ever Happened to Baby Jane?
Telly Savalas (with his sole Oscar nomination) for the role of Lancaster's fellow Alcatraz convict Feto Gomez in Birdman of Alcatraz
British actor Terence Stamp (with his sole Oscar nomination in his film debut) in the title role as the innocent, naive foretopman Billy Budd in the Peter Ustinov-directed Billy Budd (the film's sole nomination), from Herman Melville's seafaring story
Anne Bancroft's 16 year-old co-star from The Miracle Worker, Patty Duke (with her sole career nomination in her first film) was nominated and won the Best Supporting Actress Oscar for her believable rendering of the undisciplined, deaf/dumb/blind child Helen Keller. Both Bancroft and Duke were repeating their roles from the Broadway production. [Until 10 year-old Tatum O'Neal's win in Paper Moon (1973) as Addie Loggins, Duke was the youngest person to win a competitive Oscar award. Nonetheless, Duke was the first minor (under age 18) to win a competitive Oscar.] She defeated another child actress - and sister of Hollywood director John Badham - nine year-old Mary Badham (with her sole career nomination) as tomboy Scout, Peck's daughter in To Kill a Mockingbird. [Badham is the youngest nominee for the Best Supporting Actress award in Academy history.]
Other Best Supporting Actress nominees included:
Shirley Knight (with her second and last unsuccessful nomination) as Ed Begley's daughter Heavenly Finley (Paul Newman's childhood sweetheart) in Sweet Bird of Youth
37 year old Angela Lansbury (with her third and last unsuccessful career nomination) in possibly her greatest career role as the conniving mother of a Korean War hero - and brainwashed assassin - (34 year old Laurence Harvey) in The Manchurian Candidate
Thelma Ritter (with the last of her six unsuccessful nominations) as Stroud's (Burt Lancaster) overly-protective mother Elizabeth who never gives up on getting her son out of prison in Birdman of Alcatraz
Oscar Snubs and Omissions:
Other potential Best Picture nominees which were nudged out, without nominations, included Jules and Jim, one of director John Ford's last Westerns - The Man Who Shot Liberty Valance (with only one nomination for Edith Head's costume design), and John Frankenheimer's excellent political thriller The Manchurian Candidate (with two unsuccessful nominations for Best Supporting Actress and Film Editing). And while The Miracle Worker was not nominated as Best Picture it probably should have been to be consistent - it received nominations for director Arthur Penn, and the major female acting awards went to its two stars Anne Bancroft and Patty Duke. Stanley Kubrick's audacious film Lolita was entirely neglected by the Academy - its director and actors (James Mason, teenage Sue Lyon, Shelley Winters, and Peter Sellers) were denied well-deserved nominations. Its sole unsuccessful nomination was for Best Screenplay (Vladimir Nabokov).
What Ever Happened to Baby Jane? (with five nominations and one win for Best Costume Design) was also denied a Best Picture nomination, as was Sweet Bird of Youth (with three significant acting nominations, and one win in the Best Supporting Actor category). Bette Davis' bitter rival in What Ever Happened to Baby Jane?, Joan Crawford, was un-nominated.
The psychological drama David and Lisa received only two nominations: Best Adapted Screenplay (Eleanor Perry) and Best Director (Frank Perry), and went un-nominated as Best Picture. Although Through a Glass Darkly (Sw.) brought Ingmar Bergman his second Best Foreign Film Oscar win the previous year, it was missing from the Best Picture nominees this year, and received only one nomination: Best Writing, Story and Screenplay - Written Directly for the Screen.
One of Sam Peckinpah's greatest films - Ride the High Country - was nomination-less, with veteran actors Joel McCrea and Randolph Scott in farewell roles as two former lawmen. And Sidney Lumet's filmed version of Eugene O'Neill's Long Day's Journey Into Night was ignored in the Best Director category and nominee Katharine Hepburn's three co-stars - Jason Robards (as alcoholic James Tyrone, Jr.,), Ralph Richardson, and Dean Stockwell, weren't nominated for their compelling acting performances.
Robert Preston's remarkable portrayal of charismatic con-man Professor Harold Hill (a recreation of his own Broadway stage performance) who encouraged the townsfolk to invest in a children's marching band in Best Picture-nominated The Music Man was not nominated in the Best Actor category. [Preston's sole career Oscar nomination would come 20 years later with a Best Supporting Actor nomination for Victor/Victoria (1982).] Co-star Paul Ford was also denied a supporting nomination as Mayor Shinn in The Music Man. Kirk Douglas was also not among the actor nominees for his performance as out-of-sync cowboy Jack Burns in writer Dalton Trumbo's Lonely Are the Brave.
Lee Marvin (as Liberty Valance - a caricature that preceded his similar Oscar-winning role in Cat Ballou (1965)), Andy Devine (as Marshal Link Appleyard), John Wayne (as rancher Tom Doniphon), and James Stewart (as novice lawyer and Senator Ransom Stoddard) were ignored in Ford's much-praised The Man Who Shot Liberty Valance.
Other roles without nominations included Robert Duvall in To Kill a Mockingbird as the shy recluse Boo Radley, Frank Sinatra as Korean War platoon member and nightmare-suffering Maj. Bennett Marco in The Manchurian Candidate, Buddy Ebsen as Audrey Hepburn's long-lost husband in Breakfast at Tiffany's, Robert Ryan as the brutal master-at-arms John Claggart in Billy Budd, Ralph Richardson as self-deluded actor James Tyrone in Long Day's Journey Into Night, and Rosalind Russell as Natalie Wood's Mama Rose Hovick in Gypsy.