1960
The winner is listed first, in CAPITAL letters.
Actor:
BURT LANCASTER in "Elmer Gantry", Trevor Howard in "Sons and Lovers", Jack Lemmon in "The Apartment", Laurence Olivier in "The Entertainer", Spencer Tracy in "Inherit the Wind"
Actress:
ELIZABETH TAYLOR in "Butterfield 8", Greer Garson in "Sunrise at Campobello", Deborah Kerr in "The Sundowners", Shirley MacLaine in "The Apartment", Melina Mercouri in "Never on Sunday"
Supporting Actor:
PETER USTINOV in "Spartacus", Peter Falk in "Murder, Inc.", Jack Kruschen in "The Apartment", Sal Mineo in "Exodus", Chill Wills in "The Alamo"
Supporting Actress:
SHIRLEY JONES in "Elmer Gantry", Glynis Johns in "The Sundowners", Shirley Knight in "The Dark at the Top of the Stairs", Janet Leigh in "Psycho", Mary Ure in "Sons and Lovers"
Director:
BILLY WILDER for "The Apartment", Jack Cardiff for "Sons and Lovers", Jules Dassin for "Never on Sunday", Alfred Hitchcock for "Psycho", Fred Zinnemann for "The Sundowners"
---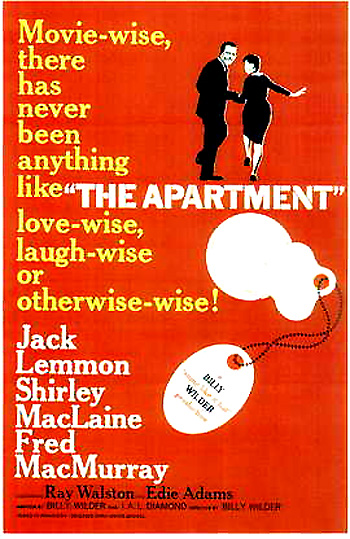 The Best Picture Award winner was director/producer/writer Billy Wilder's cynical and risque black and white comedy/tragi-drama The Apartment (with a total of ten nominations and five wins - Best Picture, Best Director, and Best Writing: Story and Screenplay, Best B/W Art Direction, and Best Film Editing). It was an indictment of corporate politics. It told about an ambitious, lonely insurance clerk (Jack Lemmon) who lends out his NY apartment to higher executives for their clandestine, illicit affairs. His married boss's (Fred MacMurray) girlfriend and elevator operator (Shirley MacLaine) is so depressed about her own involvement that she attempts suicide.
Wilder's Some Like It Hot (1959) was mostly overlooked the previous year, so the Academy made up for the oversight this year. [It was an unprecedented triple win for Wilder - three Oscars for co-writing, producing, and directing the same film. The last time a triple win had occurred was director Leo McCarey's win for Going My Way (1944), but in 1944, the Best Picture award wasn't yet given to individual producers. It would also occur for Francis Ford Coppola in 1974, James L. Brooks in 1983, and James Cameron in 1997.] It was remarkable that none of the three nominated members of the acting cast (Lemmon, MacLaine, or Kruschen) of the Best Picture winner won an Oscar.
The other Best Picture nominees in 1960 were mostly a mixed bag:
producer/director/actor John Wayne's overlong, big-budget, turgid American epic about the 1836 battle for independence, The Alamo (with a total of seven nominations and only one win - Best Sound) - Wayne had tirelessly campaigned for the tepid film, suggesting with ads that it would be unpatriotric not to vote for the film - "the most expensive picture ever made on American soil"
writer/director Richard Brooks' Elmer Gantry (with five nominations and three wins - Best Actor, Best Supporting Actress, and Best Screenplay) that was based on Sinclair Lewis' expose novel about disreputable and fraudulent small-town evangelists
a film adaptation of D. H. Lawrence's autobiographical novel by director Jack Cardiff, Sons and Lovers (with six nominations and one win - Best B/W Cinematography)
director Fred Zinnemann's film of an Irish sheep-herding family in Australia during the 1920s from Jon Cleary's novel, The Sundowners (with five nominations and no wins)
The Best Director nominees Alfred Hitchcock (for Psycho - this was the famed director's fifth and last unsuccessful nomination in this category) and Jules Dassin (for Never On Sunday - this was his sole Best Director nomination) replaced Best Picture-nominated directors John Wayne (for The Alamo) and Richard Brooks (for Elmer Gantry) in that category.
Burt Lancaster (with his second nomination and sole Oscar win) won the Best Actor Award for the title role in Elmer Gantry - a 1920s charismatic, phony, silver-tongued, amoral, spellbinding, grinning and womanizing Bible Belt evangelist who becomes attracted to a revivalist (un-nominated Jean Simmons) and her traveling troupe. [This was the only Oscar win for Lancaster out of a total of four career nominations - other nominations were for From Here to Eternity (1953), Birdman of Alcatraz (1962), and Atlantic City (1981).]
Other Best Actor nominees included:
Jack Lemmon (with his third of eight career nominations) as lonely, ambitious and young New York insurance clerk C. C. Baxter who loans out his Manhattan apartment for romantic trysts for his company's executive supervisors while falling in love with the elevator girl (Shirley MacLaine) - one of the victims, in The Apartment
Laurence Olivier (with his sixth of ten career nominations) as seedy vaudevillian performer Archie Rice in director Tony Richardson's The Entertainer (the film's sole nominaton)
Spencer Tracy (with his seventh of nine career nominations) as a "Clarence Darrow-style" trial lawyer named Henry Drummond opposite prosecutor Matthew Harrison Brady (unnominated Fredric March as Biblical literalist William Jennings Bryan) in director Stanley Kramer's fictionalized dramatization of the 1925 Tennessee Scopes "Monkey Trial", Inherit the Wind (with four nominations and no wins)
Trevor Howard (with his sole career nomination) as D. H. Lawrence's drunken, coal-mining father Walter Morel in Sons and Lovers
The Best Actress category (with two prostitutes and a mistress among the nominees) was won by Elizabeth Taylor (with her fourth of four consecutive nominations and her first Oscar win) as part-time model and wanton, fast-living, disturbed call-girl Gloria Wandrous caught in a doomed romance with a wealthy married man (Laurence Harvey) and her love for her disapproving friend (Eddie Fisher) in the trashy Daniel Mann film based on John O'Hara's novel, Butterfield 8 (with two nominations and one win - Best Actress). The title of the picture was derived from her answering services' telephone exchange - Butterfield. Violet-eyed Taylor's win for the widely-panned melodramatic film is often interpreted as a sympathy vote because she had lost in the three previous years, and she had just endured an emergency tracheotomy during a near-fatal bout of pneumonia, and had throat scars to prove it.
The defeated Best Actress nominees included well-deserving actresses:
Deborah Kerr (with her sixth and last unsuccessful career nomination) for her role as Ida Carmody, a sheepherder in Australia married to Robert Mitchum in director Fred Zinnemann's The Sundowners
Greer Garson (with her seventh and final Best Actress career nomination) for her role as Eleanor Roosevelt (opposite unnominated Ralph Bellamy as FDR) in the story of Franklin D. Roosevelt's life and presidency, in director Vincent J. Donahue's Sunrise at Campobello
Greek-born Melina Mercouri (with her sole career nomination) as Ilya - an uneducated, fun-loving Greek prostitute in writer/director Jules Dassin's Never on Sunday (with five nominations and one win - Best Song) - Mercouri's first major successful international film
Shirley MacLaine (with her second of five career nominations) as Fran Kubelik - the insurance company's depressed, quirky elevator girl who is seduced by Jack Lemmon's married boss Fred MacMurray and subsequently attempts suicide in The Apartment
London-born Peter Ustinov (with his second of three career nominations - and his first of two Oscar wins - he was previously nominated for his supporting role in a similar epic Quo Vadis? (1951) ) won the Best Supporting Actor award as a wily, greedy Roman slave trader-master Lentulus Batiatus who trains Kirk Douglas in a gladiator school in Stanley Kubrick's tale of a slave revolt, Spartacus (with six nominations and four wins - Best Supporting Actor, Best Color Cinematography, Best Color Art Direction/Set Decoration, and Best Color Costume Design).
Other Best Supporting Actor nominees were:
Peter Falk (with his first of two unsuccessful career nominations) as Abe Reles - a 1930s hired killer in Murder, Inc. (the film's sole nomination)
Jack Kruschen (with his sole nomination) as Dr. Dreyfuss - Jack Lemmon's next-door neighbor who helps save co-star Shirley MacLaine from suicide in The Apartment
Sal Mineo (with his second and last unsuccessful career nomination) as Zionist terrorist Dov Landau in director Otto Preminger's version of Leon Uris' best-selling novel Exodus (with three nominations and one win - Best Dramatic Score)
Chill Wills (with his sole nomination) as the 'beekeeper' in The Alamo. [Wills might have won, except that he vigorously campaigned for his own nomination - a dubious one at best - and had aggressively hired a publicist for his campaign. He put an ad in the trade papers declaring to all Academy members: "Win, lose, or draw, you're still all my cousins, and I love you," and signed it "Your cousin, Chill Wills." Another of Wills' ads suggested that the film's cast was praying for a Wills victory "harder than the real Texans prayed for their lives at the Alamo." The tactic seemingly backfired.]
The Best Supporting Actress award went to Shirley Jones (with her sole career nomination) and her against-type role as blonde Lulu Bains - Burt Lancaster's former dishevelled girlfriend/turned hustling, blackmailing prostitute who seeks revenge in Elmer Gantry. [She is best known for playing the mother on the TV show The Partridge Family in the early 70s.]
Other Best Supporting Actress competitors included:
Janet Leigh (with her sole career nomination) for her role as Marion Crane - a money thief stabbed to death in the Bates Motel in an unforgettable shower scene in director Alfred Hitchcock's celebrated horror film Psycho
Glynis Johns (with her sole nomination) as Mrs. Firth - the Cockney, Australian barmaid/innkeeper in The Sundowners
Shirley Knight (with her first of two unsuccessful career nomination) as Reenie - a shy 1920s Oklahoman daughter (of salesman Robert Preston) in director Delbert Mann's film of William Inge's screenplay, The Dark at the Top of the Stairs (the film's sole nomination)
Mary Ure (with her sole nomination) as sexually-emancipated Clara Dawes in Sons and Lovers
The Honorary Oscar award was awarded to a gravely-ill Gary Cooper this year, "for his many memorable screen performances and the international recognition he, as an individual, has gained for the motion picture industry." He had received five Best Actor nominations in his career from 1936 to 1952, and won two Oscars - Sergeant York (1941) and High Noon (1952). Cooper died a month after the awards ceremony (April 17, 1961), on May 13, 1961. Stan Laurel also received an Honorary award for "his creative pioneering in the field of cinema comedy."
In this year, Hayley Mills was the last recipient of the outstanding juvenile Honorary award (a miniature statuette), for Pollyanna - an honor that first began as a tribute to Shirley Temple in 1934. From now on, child performers would be included among the regular competitive awards. [The first nominated child star nominees were Jackie Cooper for Skippy (1930/31), and Patty McCormack for The Bad Seed (1956). The first winning child star was 16 year old Patty Duke for The Miracle Worker (1962).]
Oscar Anomalies:
Janet Leigh received only one Oscar nomination in her career, for Psycho - which she lost! Other memorable unnominated roles included her role as Charlton Heston's terrorized wife Susan Vargas in Orson Welles' Touch Of Evil (1958) or as Rosie, Frank Sinatra's love interest in John Frankenheimer's The Manchurian Candidate (1962). Likewise, 1960 was the year for Trevor Howard's sole nomination in a career with many outstanding but un-nominated acting roles, such as in Brief Encounter (1946) and The Third Man (1949).
Oscar Snubs and Omissions:
It was appalling that Best Picture-nominated The Alamo edged out Hitchcock's superior thriller Psycho (with four unsuccessful nominations) and Stanley Kubrick's Spartacus for Best Picture nominations. This was Hitchcock's fifth nomination as director (from 1940-1960) - he would never be nominated again for Best Director.
Two other omissions for Psycho must be noted:
the famous, recognizable score by Bernard Herrmann
Anthony Perkins in his most famous role as the twitchy, schizophrenic, and chilling mother-obsessed Bates Motel manager/serial killer psycho Norman Bates
[Note: Perkins received only one nomination in his entire career - for Friendly Persuasion (1956).]
Both Montgomery Clift and Jo Van Fleet were denied nominations as TVA agent Chuck Glover and as evicted 80 year old widow Ella Garth in Elia Kazan's issue-oriented drama Wild River, and Alec Guinness was likewise ignored in the nominees as brutal and crude Lt. Col. Jock Sinclair in director Ronald Neame's Tunes of Glory. Fredric March was neglected for his performance as Matthew Harrison Brady opposite nominated Spencer Tracy in Inherit the Wind. And Doris Day was omitted as a Best Actress nominee for one of her few (and last) dramatic roles as the hysterical and threatened Kit Preston in the Hitchcock-like mystery thriller Midnight Lace (with only one nomination for Best Costume Design).
Jean Simmons, who played Varinia - a slave girl loved by Spartacus, was denied a nomination (opposite the powerhouse performance of Best Actor-winning Burt Lancaster) for her part as devout evangelist Sister Sharon in Elmer Gantry - the film also lacked a nomination for its first-time director Richard Brooks.
And Ralph Bellamy, recreating his Tony Award-winning role of FDR opposite nominated Greer Garson was denied a nomination in Sunrise at Campobello. Robert Mitchum was not a nominee for his role as Paddy Carmody in The Sundowners (1960). [Throughout his entire career, he received only one nomination, a supporting one for his performance in the war film The Story of G.I. Joe (1945).]
Director Otto Preminger effectively ended the blacklisting of Dalton Trumbo, by putting the writer's real name on the screenplay for Exodus. (Trumbo, under the pseudonym of Robert Rich, won the Best Writing: Original Story Award (his second and last nomination and sole Oscar win) for The Brave One (1956).) And finally, why wasn't Fred MacMurray nominated in a supporting role as a cad businessman in The Apartment instead of Jack Kruschen?