1948
The winner is listed first, in CAPITAL letters.
Actor:
LAURENCE OLIVIER in "Hamlet", Lew Ayres in "Johnny Belinda", Montgomery Clift in "The Search", Dan Dailey in "When My Baby Smiles at Me", Clifton Webb in "Sitting Pretty"
Actress:
JANE WYMAN in "Johnny Belinda", Ingrid Bergman in "Joan of Arc", Olivia de Havilland in "The Snake Pit", Irene Dunne in "I Remember Mama", Barbara Stanwyck in "Sorry, Wrong Number"
Supporting Actor:
WALTER HUSTON in "The Treasure of the Sierra Madre", Charles Bickford in "Johnny Belinda", Jose Ferrer in "Joan of Arc", Oscar Homolka in "I Remember Mama", Cecil Kellaway in "The Luck of the Irish"
Supporting Actress:
CLAIRE TREVOR in "Key Largo", Barbara Bel Geddes in "I Remember Mama", Ellen Corby in "I Remember Mama", Agnes Moorehead in "Johnny Belinda", Jean Simmons in "Hamlet"
Director:
JOHN HUSTON for "The Treasure of the Sierra Madre", Anatole Litvak for "The Snake Pit", Jean Negulesco for "Johnny Belinda", Laurence Olivier for "Hamlet", Fred Zinnemann for "The Search"
---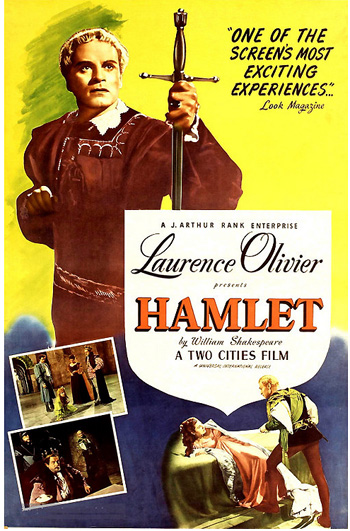 This was the Academy's twenty-first year. In previous years, British films had been making serious inroads into Hollywood. For instance, Laurence Olivier's Henry V (1944) - which had a 1946 US release date and was eligible for awards in that year - and Great Expectations (1947), were both Best Picture nominees, and their success fully flowered in 1948 with two major British films vying for prizes. Two of the five nominees for Best Picture were British productions:
Laurence Olivier's superb black and white UK film Hamlet (with a total of seven nominations and four wins), a two and one half hour Shakespeare adaptation
Michael Powell's-Emeric Pressburger's production of the richly beautiful, Technicolor balletic melodrama The Red Shoes (with a total of five nominations and two wins), the top money-maker of the year about a young ballerina forced to choose between love and career
The two British films earned six Oscar awards between them (Hamlet - (4) for Best Picture, Best Actor, Best B/W Art/Set Decoration, and Best B/W Costume Design, and The Red Shoes - (2) for Best Color Art/Set Decoration and Best Score). [Powell and Pressburger had already teamed up to produce The Life and Death of Colonel Blimp (1944), I Know Where I'm Going (1945), and Black Narcissus (1947).]
Hamlet was both the first British production and the first non-American or non-Hollywood (foreign-made) film to be presented with the industry's top honor - Best Picture. It is the only film adapted from one of William Shakespeare's plays to win Best Picture. Hamlet's greatest competition was not from The Red Shoes, but from director John Huston's The Treasure of the Sierra Madre (with four nominations and three wins - Best Supporting Actor, Best Director, and Best Screenplay) about three prospectors and their obsessive search for gold.
Two of the other Best Picture nominees that were predicted to win managed to be nominated eighteen times, but only won one award apiece:
the sentimental melodrama Johnny Belinda (with twelve nominations and one win - Best Actress) directed by Jean Negulesco, about a young deaf mute girl - it was a major upset that Johnny Belinda lost to Hamlet

** Johnny Belinda was one of the dozen or so films in Academy history that received nominations in all four acting categories (Best Actor and Actress, and Best Supporting Actor and Actress).

[The others, in chronological order, were: My Man Godfrey (1936), Mrs. Miniver (1942), For Whom the Bell Tolls (1943), Sunset Boulevard (1950), A Streetcar Named Desire (1951), From Here to Eternity (1953),Who's Afraid of Virginia Woolf? (1966), Bonnie And Clyde (1967), Guess Who's Coming to Dinner (1967), Network (1976), Coming Home (1978), and Reds (1981).]


The Snake Pit (with six nominations and one win - Best Sound Recording) directed by Anatole Litvak, the socially-conscious film about mental illness and life in a mental institution. It was one of the first films to explore the subject in a compassionate style. Litvak's film was based on Mary Jane Ward's semi-autobiographical novel (with screenplay by Millen Brand) about the experiences of a mentally-disturbed woman within an asylum
Another contender for awards this year was the Swiss-made film by director Fred Zinnemann, The Search (with four nominations and one win - Best Motion Picture Story, and a Special Award for Ivan Jandl - "outstanding juvenile performance of 1948"), the first film to be made in Europe after WWII with an American director and cast.
John Huston won the Best Director award (and the Best Screenplay award) for his cynical tale of gold prospectors, The Treasure of the Sierra Madre, defeating Fred Zinnemann for one of his earliest feature films, The Search, Anatole Litvak for The Snake Pit, Jean Neguleso for Johnny Belinda, and Best Picture-winning producer/actor Laurence Olivier for Hamlet. Huston's film, filmed on location in Mexico, was the first Hollywood-American film made entirely outside the US. [These would turn out to be John Huston's only Oscar wins in his entire career - his last nomination was as Best Director for Prizzi's Honor (1985).]
Forty-one year-old Laurence Olivier also won the Best Actor race for his title role as the melancholy Dane in Hamlet, becoming the first (and the only) person to win as actor and as producer. In other words, he was the first actor to direct his own Oscar-winning performance - in a unique position, he was Best Director-nominated for his own Oscar-winning Best Actor role. Italian actor Roberto Benigni repeated this feat for Life is Beautiful (1998, It.) fifty years later. Britisher Laurence Olivier was the first non-American director to win Best Picture.
Although he had been nominated three times previously for superb performances in Wuthering Heights (1939), Rebecca (1940), and Henry V (1946), this was his first earned Best Actor award.
(Olivier would be nominated six more times in his career for acting, but would never win again. In his career, Olivier had a total of 10 nominations with this - his only Oscar win. [Olivier and wife Vivien Leigh became the first Academy Awards-winning couple - they were the first husband and wife to receive Oscars.] Olivier's accomplishment was topped by Jack Nicholson who (as of the 2005 awards) was the most-nominated male performer in Oscars history with twelve career nominations and three Oscar wins.)
Olivier's competition for Best Actor was not very strong (and Humphrey Bogart's performance in The Treasure of the Sierra Madre was unjustly ignored!):
Lew Ayres (with his sole career nomination), who was originally a silent star who had played the lead role in an early Best Picture winner All Quiet On The Western Front (1930), now in a basically supportive role as New England Dr. Robert Richardson in Johnny Belinda
Clifton Webb (with his third and last unsuccessful career nomination) as babysitter Lynn Belvedere (a character he would play again in two film sequels) in director Walter Lang's comedy Sitting Pretty (the film's sole nomination)
Dan Dailey (with his sole career nomination) as Skip - a burlesque team song-and-dance man in another Walter Lang film - a Fox musical When My Baby Smiles at Me (with two nominations and no wins)
Montgomery Clift (with his first of four unsuccessful career nominations) as caring GI soldier Ralph Stevenson in The Search (Clift became a star through his un-nominated appearance in Red River (1948), released six months earlier, but filmed later than The Search)
Playing a silent role as a convincing deaf mute Maine farm girl named Belinda McDonald facing small-town prejudice in Johnny Belinda, Jane Wyman won the Best Actress award for probably her greatest performance ever. [She became the first actress since silent films to receive an Oscar for a non-speaking role.] When as a single mother, she is raped and bears an illegitimate child that she fights to keep, she is befriended by the town's new doctor (Lew Ayres). The film was released a few years following her two other major career performances - in the Best Picture winner The Lost Weekend (1945), and her first nominated role in The Yearling (1946). Some interpreted her win as a sympathy vote - tragic circumstances in her life corresponded to her work in Johnny Belinda - a baby that she had been expecting was born prematurely and died just before filming commenced, and soon after the film was finished, she divorced her husband - future President Ronald Reagan.
Wyman's competition for Best Actress was impressive and considerable. Two of the other nominated roles were also for roles involving handicapped or severely 'crippled' persons:
Olivia de Havilland (with her fourth nomination) as institutionalized mental patient Virginia Cunningham who suffers harrowing experiences in an asylum in The Snake Pit
Barbara Stanwyck (with the last of her four unsuccessful nominations) as Leona Stevenson - a wealthy, bed-ridden heiress/hypochondriac and target of a killer in director Anatole Litvak's thriller Sorry, Wrong Number (the film's sole nomination)
The other two Best Actress nominees were:
Ingrid Bergman (with her fourth nomination) as burned-at-the-stake Joan of Arc in director Victor Fleming's last film and box-office failure Joan of Arc (with seven nominations and only two wins - Best Color Cinematography and Best Color Costume Design)
Irene Dunne (with the last of five unsuccessful nominations) as Mama in director George Stevens' story of a turn-of-the-century immigrant Norwegian family in San Francisco in I Remember Mama (with five nominations and no wins). It was the 2nd film in Academy history to receive four acting nominations without a Best Picture nomination (this also occurred in 1936, 1965, and 2008). [Shortly after producer Walter Wanger's disastrous Joan of Arc, in the early 50s, he served a short jail term for attempted murder in a Beverly Hills parking lot of Jennings Lang, MCA talent agent of his suspected unfaithful wife Joan Bennett. This incident supposedly was an indirect inspiration for Billy Wilder's The Apartment (1960).]
One of the year's firsts was that sixty-four year old Walter Huston (with his fourth and last career nomination - and sole Oscar win) finally won the Best Supporting Actor award for his role as Howard - a wise old, toothless gold prospector (searching for gold in Mexico with Humphrey Bogart and Tim Holt) in his own son/director John Huston's adventure film The Treasure of the Sierra Madre. Huston was the first Best Director winner to direct his own father to an acting Oscar award. Thirty-seven years later in his fortieth film Prizzi's Honor (1985), Huston directed his daughter Angelica in an Oscar-winning role. [This remarkable feat made the Hustons the first family with three generations of Oscar winners. This was also the second time in awards history that blood relatives won awards in the same year - previously this occurred in 1929/30.]
The other Best Supporting Actor nominees were:
Charles Bickford (with his third and last unsuccessful nomination) as Black McDonald (Jane Wyman's fisherman father) in Johnny Belinda
Puerto Rican-born Jose Ferrer (with his first nomination) as the Dauphin in Joan of Arc
Oscar Homolka (with his sole career nomination) as Uncle Chris in I Remember Mama
South Africa-born actor Cecil Kellaway (with his first of two unsuccessful career nominations) as a leprechaun named Horace in director Henry Koster's The Luck of the Irish (the film's sole nomination)
Claire Trevor (with her second of three career nominations - and her sole Oscar win) won the Best Supporting Actress recognition for her role as a pathetic alcoholic moll named Gaye Dawn, the mistress of gangster co-star Edward G. Robinson who holds up Lionel Barrymore's Florida hotel in director John Huston's Key Largo (with only one nomination and one win). [Trevor had been nominated previously for Best Supporting Actress for Dead End (1937) and would later be nominated as Best Supporting Actress for The High and the Mighty (1954)). One of her best un-nominated roles was as a prostitute with a heart of gold in Stagecoach (1939).]
The other Best Supporting Actress nominees included two co-stars in I Remember Mama:
Barbara Bel Geddes (with her sole nomination) as daughter Katrin
Ellen Corby (with her sole nomination) as Aunt Trina
The remaining two nominees were Agnes Moorehead (with her third of four unsuccessful career nominations) as Aunt Aggie McDonald in Johnny Belinda, and nineteen year-old Jean Simmons (with her first of two unsuccessful career nominations) as the driven-mad Ophelia in Olivier's Hamlet.
This year introduced Best Costume Design awards for color and B/W feature films - a new category of awards. Multiple-winner Edith Head began her impressive run of nineteen straight years of nominations in this category with her first nomination for The Emperor Waltz, but surprisingly lost to Joan of Arc (Dorothy Jeakins and Madame Karinska). She went on to accumulate thirty-four nominations, and eight wins during her career.
Oscar Snubs and Omissions:
Neglected Best Picture nominees included:
Howard Hawks' Red River (its two nominations for Best Original Screenplay and Film Editing were unsuccessful)
three films without any nominations: Fort Apache, the first of John Ford's "cavalry trilogy", Orson Welles' The Lady From Shanghai, and Max Ophuls' exquisite and dreamy melodrama Letter From an Unknown Woman
In the Best Actress category, there could have been a re-match between sisters Fontaine and de Havilland (similar to the 1941 contest) if Joan Fontaine's touching and sensitive portrayal as romantically-obsessed 'unknown woman' Lisa Berndle had been nominated in Ophuls' film. And Ann Miller was neglected in the list of nominees for Best Supporting Actress for her role as Astaire's tap-dancing partner Nadine Gale in MGM's Easter Parade. Also, the previous year's Best Actress winner Loretta Young was un-nominated for her fine performance as a college professor accused of murdering one of her students (in self-defense) in the melodramatic film noir The Accused.
Given many weak performances in the Best Actor nominations, it was shocking that Humphrey Bogart wasn't nominated in one of his finest career performances as Fred C. Dobbs, an obsessed gold-hunter in The Treasure of the Sierra Madre. Overshadowed by another Huston/Bogart effort, Key Largo received only one nomination (but it was a win for Claire Trevor).
Many other superb performances were neglected among the acting nominations: John Wayne as single-minded cattle-driver Tom Dunson or Montgomery Clift as his adopted, estranged son in the undervalued western classic Red River, or Henry Fonda as cavalry commander in Fort Apache, or John Garfield as cynical lawyer Joe Morse in the dark film Force of Evil, or James Stewart as crusading newspaper reporter McNeal in Call Northside 777, or Anton Walbrook as impresario Boris Lermontov in Powell's and Pressburger's ballet classic The Red Shoes, or Edward G. Robinson as cigar-chomping gangster Johnny Rocco in John Huston's atmospheric drama Key Largo. (Unfortunately, Robinson was never nominated for an Oscar, but he was given an Honorary Award in 1972).