1936
The winner is listed first, in CAPITAL letters.
Best Picture


THE GREAT ZIEGFELD (1936)


Anthony Adverse (1936)


Dodsworth (1936)


Libeled Lady (1936)


Mr. Deeds Goes to Town (1936)


Romeo and Juliet (1936)


San Francisco (1936)


The Story of Louis Pasteur (1936)


A Tale of Two Cities (1935)


Three Smart Girls (1936)
Actor:
PAUL MUNI in "The Story of Louis Pasteur", Gary Cooper in "Mr. Deeds Goes to Town", Walter Huston in "Dodsworth", William Powell in "My Man Godfrey", Spencer Tracy in "San Francisco"
Actress:
LUISE RAINER in "The Great Ziegfeld", Irene Dunne in "Theodora Goes Wild", Gladys George in "Valiant Is the Word for Carrie", Carole Lombard in "My Man Godfrey", Norma Shearer in "Romeo and Juliet"
Supporting Actor:
WALTER BRENNAN in "Come and Get It", Mischa Auer in "My Man Godfrey", Stuart Erwin in "Pigskin Parade", Basil Rathbone in "Romeo and Juliet", Akim Tamiroff in "The General Died at Dawn"
Supporting Actress:
GALE SONDERGAARD in "Anthony Adverse", Beulah Bondi in "The Gorgeous Hussy", Alice Brady in "My Man Godfrey", Bonita Granville in "These Three," Maria Ouspenskaya in "Dodsworth"
Director:
FRANK CAPRA for "Mr. Deeds Goes to Town", Gregory La Cava for "My Man Godfrey", Robert Z. Leonard for "The Great Ziegfeld", W. S. Van Dyke for "San Francisco", William Wyler for "Dodsworth"
---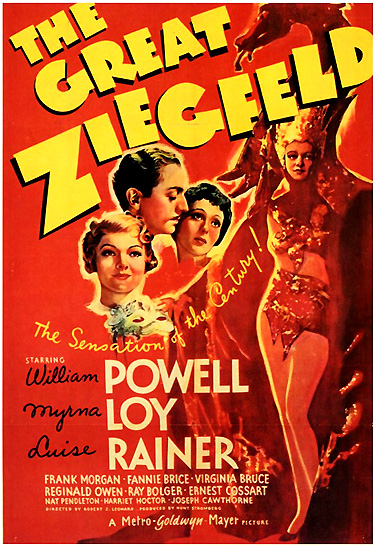 1936 was the first year that the Best Supporting Actor and Best Supporting Actress categories were added. Those winners would win plaques, rather than statuettes, until 1943's ceremony.
Five of the ten Best Picture nominees in 1936 were MGM pictures: The Great Ziegfeld, Libeled Lady, Romeo and Juliet, San Francisco, and A Tale of Two Cities.
In the mid-1930s, the trend was toward major film biographies (or biopics), and there were two among the Best Picture nominees in 1936. The first was director Robert Z. Leonard's and MGM's three-hour costly musical extravaganza (with seven elaborate production numbers, twenty-three songs, and headliner stars William Powell, Myrna Loy, and Luise Rainer), The Great Ziegfeld (with seven nominations and three wins - Best Picture, Best Actress, and Best Dance Direction). It was MGM's most costly biopic to date, costing $2 million.
It combined the elements of the musical and the screen biography about the famous Broadway impresario and showman Florenz Ziegfeld. The film followed Ziegfeld's career rise from his lowly beginnings to the days of his extravagant Ziegfeld Follies, including his complicated love life with two marriages to beautiful actresses Anna Held (Rainer) and Billie Burke (Loy).
The second biopic of the year was director William Dieterle's and Warner Bros.' The Story of Louis Pasteur (with four nominations and three wins - Best Actor, Best Original Story, and Best Screenplay) about the life of the great medical science pioneer/chemist who discovered the anthrax vaccine that saved French cattle from the black plague.
The eight other films nominated for Best Picture included:
It is now considered outrageous that The Great Ziegfeld defeated such superior films as Dodsworth, Libeled Lady and Mr. Deeds Goes to Town.
Capra's Best Director Award for Mr. Deeds Goes to Town was his second (he won Best Director in 1934, 1936, and 1938), defeating William Wyler for Dodsworth, Gregory La Cava's superb screwball comedy My Man Godfrey (with six nominations and no wins) about a "forgotten man" who is retrieved during a scavenger hunt and becomes a wise butler, W. S. Van Dyke for San Francisco, and Robert Z. Leonard for The Great Ziegfeld. [Two of Capra's films were also Best Picture winners: It Happened One Night (1934), and You Can't Take It With You (1938).]
The first film to receive nominations in each of the four acting categories was My Man Godfrey - remarkably, none of the nominees won awards. The definitive, classic film was also not nominated for Best Picture - a very rare occurrence, happening again in 1948, 1965, and 2008. [It was the first time that a film which swept the acting and directing nominations failed to receive a Best Picture nomination.] Its place was taken by Libeled Lady.
Paul Muni (who became known for his fine performances in screen biographies and had starred a few years earlier in director Howard Hawks' Scarface (1932) as an "Al Capone-like" gangster, and was award-nominated for his role in I Am A Fugitive From a Chain Gang (1932)) won the Best Actor award for his role (his third nomination and first Oscar win) as the pioneering French medical scientist who battles against unseen killers and discovers pasteurization in The Story of Louis Pasteur.
The other Best Actor nominees included:
Controversially, Austrian import Luise Rainer (with her first nomination and first Oscar win) in only her second Hollywood film (and in a minor and short screen role), won the Oscar for Best Actress for her role as Parisian ex-wife Anna Held, the first of impresario Ziegfeld's (William Powell) wives. It has been generally acknowledged that her moving and poignant telephone scene in the film in which she congratulates her ex-husband Flo on his forthcoming second marriage (to co-star Myrna Loy's Billie Burke) won her the award. Dialogue included: "Hello, Flo... Yes, yes, Anna... I could not help but call on you and congratulate you... Wonderful, Flo, never better in my whole life... It's all so wonderful, and I'm so happy... I hope you are happy, too." [Rainer would win back-to-back Best Actress awards with her successive win in 1937 for her role in The Good Earth.]
Rainer took the award away from four other exceptional actresses:
Walter Brennan (with his first nomination and first Oscar win) was the first recipient of the Best Supporting Actor Award for his role as Swedish-accented lumberjack Swan Bostrom in director William Wyler's and Howard Hawks' Come and Get It (with two nominations and one win), based on Edna Ferber's novel about lumbering and an unusual love triangle among the characters. Swan Bostrom was buddied over the years with fellow lumberjack Barney Glasgow (Edward Arnold), who became fixated on Lotta Bostrom, Swan's daughter who was born of the mistress/saloon singer Lotta Morgan (Frances Farmer playing both roles) that he had dumped over twenty years earlier. Barney was also competing with his own son Richard Glasgow (Joel McCrea) for her affections. It was Brennan's first of three supporting awards during his entire prolific career.
The other four Best Supporting Actor nominees were:
Gale Sondergaard (with her first nomination and in her film debut) won the Best Supporting Actress Award for her role as the scheming and ambitious housekeeper Faith Paleologus who comes between Fredric March and Olivia DeHavilland in the costume drama Anthony Adverse. This marked the first time that any actor/actress had ever won a major acting award in their first film. [The next time this would happen would be ten years later - with Harold Russell's Best Supporting Actor Award for The Best Years of Our Lives (1946)]. Sondergaard was also the first to receive the Best Supporting Actress award.
The remaining four Best Supporting Actress nominees were:
Walt Disney was awarded his fifth (consecutive) Short Subject: Cartoon award for Country Cousin.
Oscar Snubs and Omissions:
There were many deserving non-nominees in many categories in 1936:
Jean Harlow (a Christian Scientist who refused medical treatment) died in Hollywood on June 7, 1937, about three months after the 1936 awards ceremony (March 4, 1937), of acute uremic poisoning. And it was extremely unfortunate that Carole Lombard didn't win in the category of Best Actress for My Man Godfrey - her best chance at an Oscar before her tragic, early death.