2011
The winner is listed first, in CAPITAL letters.
Best Picture


THE ARTIST (2011, Fr.)


The Descendants (2011)


Extremely Loud & Incredibly Close (2011)


The Help (2011)


Hugo (2011)


Midnight in Paris (2011)


Moneyball (2011)


The Tree of Life (2011)


War Horse (2011)
Best Animated Feature Film


RANGO (2011)


A Cat in Paris (2011, Fr.) (aka Une Vie de Chat)


Chico & Rita (2011, Sp./UK)


Kung Fu Panda 2: The Kaboom of Doom (2011)


Puss in Boots (2011)
Actor:
JEAN DUJARDIN in "The Artist,"Demián Bichir in "A Better Life," George Clooney in "The Descendants," Gary Oldman in "Tinker Tailor Soldier Spy," Brad Pitt in "Moneyball"
Actress:
MERYL STREEP in "The Iron Lady," Glenn Close in "Albert Nobbs," Viola Davis in "The Help," Rooney Mara in "The Girl With the Dragon Tattoo," Michelle Williams in "My Week With Marilyn"
Supporting Actor:
CHRISTOPHER PLUMMER in "Beginners," Kenneth Branagh in "My Week with Marilyn," Jonah Hill in "Moneyball," Nick Nolte in "Warrior," Max von Sydow in "Extremely Loud & Incredibly Close"
Supporting Actress:
OCTAVIA SPENCER in "The Help," Bérénice Bejo in "The Artist," Jessica Chastain in "The Help," Melissa McCarthy in "Bridesmaids," Janet McTeer in "Albert Nobbs"
Director:
MICHEL HAZANAVICIUS for "The Artist," Alexander Payne for "The Descendants," Martin Scorsese for "Hugo," Woody Allen for "Midnight in Paris," Terrence Malick for "The Tree of Life"
---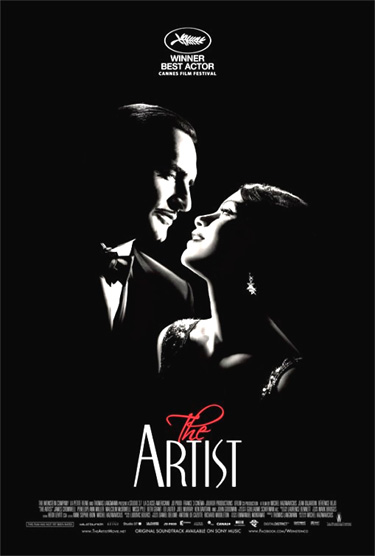 There were 24 different categories in this year's Oscars race. In the first year of Oscar presentations (for 1927/1928 films), there were only 12 categories. This year's nine Best Picture nominees in the top category included the most acclaimed and awarded films of the year.
There were nine nominees for Best Picture, using a new nomination process, announced in June of 2010. The Academy of Motion Picture Arts and Sciences had once again changed its Oscar's Best Picture nomination process for the second time in three years. It followed a very brief, two-year period in which the Best Picture field included 10 nominees, making the choices extremely inclusive.
The new system made the voters' ranking order of favorite films more important. In the new nomination process, Academy members were asked to rank five films for Best Picture (rather than 10, as in the last two years). In order to acquire a Best Picture nomination, a film had to earn at least 5% of the total number of first-place votes (projected to be around 240 ballots), allowing for between five and 10 nominees.
Nominees/Wins by Studio: The Weinstein Company had 16 nominations (from 5 films) and 8 wins; Paramount had 18 nominations (from 6 films) and 6 wins; Buena Vista had 12 nominations (from 4 films) and 2 wins; while Sony Pictures with 21 nominations (from 8 films) had only 3 wins.

The two top films, with a combined 21 nominations and 10 Oscar wins, were both nostalgic odes to the history of film-making and the early bygone days of cinema, followed by a few other films also set in the past. Six of the nine Best Picture nominees were adapted from literary works, and the top two were both French-related, as was Woody Allen's nominee! The two top films were also competing against each other in seven categories.
The lineup of Best Picture nominees with their wins (in descending order), are found below:
The Artist (with 10 nominations and five major wins: Best Picture, Best Actor, Best Director, Best Original Score, and Best Costume Design), a low-budget, black and white film with only $32.1 million (domestic) box-office, by French director Michel Hazanavicius, a nearly-silent film from the Weinstein Company that recalled the first-ever Best Picture winner, Wings (1927/1928) - the only non-speaking 'Best Picture' in Academy history. [The Artist became the second silent Best Picture winner in Oscar history.] It was the first silent (almost) to be nominated for Best Picture since Ernst Lubitsch's The Patriot (1928/1929). [Note: The Patriot was the only silent film among the five nominees of its year, and the last silent film to receive a Best Picture nomination, over 80 years ago. The last fully B&W Best Picture winner was The Apartment (1960).]
Hugo (with 11 nominations and five wins, in technical categories: Best Cinematography, Best Art Direction, Best Visual Effects, Best Sound Mixing, and Best Sound Editing, with no performance nominations), by director Martin Scorsese (with his 7th Best Director nomination), a 3-D family adventure film from Paramount; it was a 12 year-old orphan boy (Asa Butterfield) story set in 1930s Paris at the Gare Montparnasse train station (with mechanical wonders) where the boy (son of a late master clockmaker) tried to repair a broken mechanical man and unlock its secret, with homage to pioneering French silent film director Georges Melies (Ben Kingsley)
The Descendants (with 5 nominations, and only one win for Best Adapted Screenplay), by director Alexander Payne, an emotional, sometimes melancholy family drama set in Hawaii, based on the best-selling novel by Kaui Hart Hemmings, about an indifferent husband and father of two girls who was forced to re-examine his past and embrace his future when his wife suffered a boating accident off of Waikiki
The Help (with 4 nominations, including three performance nominations and only one win for Best Supporting Actress), by writer/director Tate Taylor, an ensemble film and an adaptation of Kathryn Stockett's best-selling novel about "the help" during the 1960s civil rights-era in Mississippi
Midnight in Paris (with 4 nominations, and one win for Best Original Screenplay), by director-nominated Woody Allen, a Parisian romantic fantasy from the 1920s from Sony Pictures, the top-grossing film of Woody Allen's career (to date $56 million domestic and $148.3 million worldwide) - his 41st feature film. Allen's Oscar win for Best Original Screenplay was his third Original Screenplay Oscar, following wins for Annie Hall (1977) and Hannah and Her Sisters (1986) 25 years earlier - and it was Allen's fourth overall Oscar (out of 23 nominations). [Note: The only times Allen has won the Original Screenplay Oscar has been when his films were also nominated for Best Picture. In addition, Allen was the oldest winner of the Best Original Screenplay award, at age 76.]
Moneyball (with 6 nominations and no wins), from Sony Pictures, by un-nominated director Bennett Miller, an inside-baseball biographical sports drama based on Michael Lewis' 2003 book regarding a true story - the 2002 season of the Oakland A's baseball team [Note: the six nominations were the most for any baseball movie since The Pride of the Yankees (1942) received 11 nominations; no baseball film has ever won Best Picture, and the last baseball film to be nominated for the top award was Field of Dreams (1989) (with three nominations).]
War Horse (with 6 nominations and no wins), by director Steven Spielberg, a beautifully-filmed, old-fashioned WWI war-time epic drama, about an English farm boy who joined the army to search for his horse Joey after it was sold into the cavalry and shipped to France during the war
The Tree of Life (with 3 nominations and no wins), by Terrence Malick, an esoteric, experimental, non-linear family chronicle of life in 1950s small-town Texas
Extremely Loud & Incredibly Close (with 2 nominations and no wins), by director Stephen Daldry, a surprise last-minute nomination for the poignant, sentimental post-9/11 drama about a 9 year-old boy coping with the grief of losing his father
Only one of the Best Picture nominees had earned more than $100 million at the box-office at the time of nominations and awards, Buena Vista's The Help, at $169.6 million. The Artist at $32.1 million, the front-running winning film joined the low-ranking films of the previous two years, The Hurt Locker (2009) (at $17 million) and The King's Speech (2010) (at $135 million), and it was on track to be the second lowest-grossing Best Picture winner since The Last Emperor (1987) (at $44 million). Hugo was also low-grossing at $69.5 million.
The films of all of the five nominees for Best Director were also nominated for Best Picture. All of the Best Director nominees were males (unlike two years previously when Kathryn Bigelow won for the category), and all were veterans, except for 44 year-old Michel Hazanavicius, who won the Best Director Oscar for The Artist. It was his first nomination (and win), and the first for a French director. The other four nominees were:
69 year-old Martin Scorsese, with his 7th Best Director nomination, and a previous win for The Departed (2006)
76 year-old Woody Allen, with his 7th Best Director nomination, and a previous win for Annie Hall (1977)
Terrence Malick, who had received two previous nominations for The Thin Red Line (1998) (Best Adapted Screenplay and Best Director)
Alexander Payne (with his second Best Director nomination) was previously nominated as Best Director for Sideways (2004) (he won the Oscar for Best Adapted Screenplay for the film).
The Iranian family drama from writer/director Asghar Farhadi, A Separation had two nominations (including Best Original Screenplay) and won the Best Foreign Language Film Oscar - it was the first Iranian film to be nominated (and also win) in Academy history.
The Best Animated Feature Film category included two non-CGI (hand-drawn) animated nominees - a pair of unlikely and obscure, foreign-language independent film candidates from the small New York distributor GKIDS. The winner was Rango, director Gore Verbinski's Western comedy-adventure (with voice of Johnny Depp as chameleon Rango), Verbinski's first nomination (and win) after being overlooked for his live action films. The other nominees (conspicuously without a Pixar nominee or winner) were:
A Cat in Paris (Fr.) (aka Une Vie De chat), non-CGI animation, about young traumatized and unspeaking Parisian girl Zoe and her cat Dino (and rooftop cat burglar Nico) - an exciting mystery thriller unfolding over the course of one evening
Chico & Rita, by Spanish filmmaker Fernando Trueba, an old-fashioned, hand-drawn animated tale of star-crossed love in the 1940s-1950s with a jazzy (Latino-Cuban) soundtrack, between young jazz pianist Chico & beautiful singer Rita
Kung Fu Panda 2, from DreamWorks, the blockbuster sequel to the 2008 film, the highest-grossing animated film of the year, directed by Jennifer Yuh Nelson
Puss in Boots, from DreamWorks, from director Chris Miller, a spin-off sequel to the Shrek film franchise - the first spin-off nominee in the category
There were nine first-time nominees among the 20 performance nominees - the most newcomers were within the Best Supporting Actress category.
The Best Actor category included two long-time favorite nominees (Clooney and Pitt), but neither of them triumphed. The category was won by a first-time nominee - and the first French actor to ever win Best Actor - 39 year-old French actor Jean Dujardin (with his first nomination and win) for his performance in The Artist, as declining, handsome silent film star George Valentin struggling with the coming of talkies. The other four Best Actor nominees were:
48 year-old Mexican actor and underdog Demián Bichir (with his first nomination) for director Chris Weitz' illegal immigrant drama A Better Life, as East L.A. gardener Carlos Galindo, while coping with his teenaged son lured by local gangs
50 year-old George Clooney (with his third Best Actor nomination, and 6th Oscar nomination overall, with one win for Syriana (2005) for Best Supporting Actor) for The Descendants, as middle-aged father of two daughters and Honolulu-based lawyer Matt King coping with his cheating wife's coma [Note: Clooney was also nominated for Best Adapted Screenplay for his own directed film, The Ides of March (its sole nomination)]
53 year-old English actor Gary Oldman (with his first nomination) for director Tomas Alfredson's UK espionage film Tinker Tailor Soldier Spy (with three nominations and no wins), an adaptation of the John Le Carré novel, as British intelligence agent George Smiley hunting for a Soviet mole in the 1970s
48 year-old Brad Pitt for Moneyball (with his third Oscar nomination overall and second Best Actor nomination, with no wins), as Oakland A's general manager Billy Beane
The Best Actress category included two legendary veterans (one without any wins from six nominations, and the other with her 17th nomination), and only one first-time nominee. Two actresses in the category, Glenn Close and Meryl Streep have competed against each other in the Best Actress category twice before (in 1987 and 1988), and on the two previous occasions both lost (to Moonstruck (1987) and Cher, and to The Accused (1988) and Jodi Foster).
This time in an upset, 62 year-old Meryl Streep won her third Oscar (it was with her record-setting 17th Oscar nomination, five more than both second-place Katharine Hepburn and Jack Nicholson, and she already possessed 13 Best Actress nominations), for her performance in The Iron Lady (with two nominations, and two wins including Best Makeup), a biopic by director Phyllida Lloyd, as former UK Prime Minister Margaret Thatcher. She had two previous Oscars for Best Supporting Actress for Kramer vs. Kramer (1979) and Best Actress for Sophie's Choice (1982). [Note: Streep hadn't won an Oscar in the last 12 instances, stretching back to 1982]. The other Best Actress nominees were:
64 year-old Glenn Close (with her 6th Oscar nomination overall and her third Best Actress nomination, with no wins - her last nomination was 23 years earlier) for director Rodrigo Garcia's Albert Nobbs (with three nominations and no wins), as title character Albert Nobbs, a hotel waiter trapped after masquerading as a man in late 19th century and early 20th century Ireland
46 year-old African-American stage actress Viola Davis (with her 2nd Oscar nomination overall, previously nominated as Best Supporting Actress for Doubt (2008) opposite co-star Meryl Streep, with no wins) for The Help, as middle-aged, stoic, headstrong black servant-maid Aibileen Clark (one of "the Help") in Jackson, Mississippi in the early 1960s during the Civil Rights era, who shared her experiences, from her point of view, with aspiring writer Eugenia "Skeeter" Phelan (Emma Stone) for an anonymously-published book, The Help
26 year-old Rooney Mara (with her first nomination) for The Girl With the Dragon Tattoo (with five nominations total and only one win for Best Film Editing), an R-rated thriller-remake by un-nominated director David Fincher and based on Stieg Larsson's Millennium book series, as violent, bisexual computer hacker misfit Lisbeth Salander assisting Mikael Blomkvist (Daniel Craig) in an investigation into the possible murder of a missing girl
31 year-old Michelle Williams (with her third Oscar nomination and second nomination for Best Actress, with no wins) for My Week With Marilyn (with two nominations and no wins), by UK director Simon Curtis, as bombshell movie legend Marilyn Monroe, a fragile screen beauty during the troubled making of the film The Prince and the Showgirl (1957) with Laurence Olivier
The Best Supporting Actor category was notable for having only one nominated actor under 50 years of age (there were two 82 year-old nominees, some of the oldest on record), and all nominees had never won an Oscar. The winner in the category was the favorite - 82 year-old Canadian-born Christopher Plummer (with his second Best Supporting Actor nomination and his first Oscar win), for Beginners (the film's sole nomination and win), a romantic comedy-drama by director/writer Mike Mills, as 75 year-old Hal Fields, a dying, terminally-ill widower who came out of the closet to his adult son. With his win, Plummer became the oldest actor to win an Oscar. He also became the oldest person to win an Academy Award in one of the four acting categories. The other nominees in the category were:
51 year-old British actor Kenneth Branagh (with his 5th Oscar nomination overall, and first Best Supporting Actor nomination, with no wins) for My Week with Marilyn, as acting legend Sir Laurence Olivier
28 year-old Jonah Hill (with his first nomination) for Moneyball, as numbers-crunching assistant GM Peter Brand assisting Oakland A's general manager Billy Beane (Brad Pitt) with statistics
70 year-old Nick Nolte (with his 3rd Oscar nomination overall after two Best Actor noms in 1991 and 1998, with no wins) for Warrior (the underappreciated film's sole nomination), a sports-action drama by director Gavin O'Connor, as raspy-voiced, troubled but recovering alcoholic Paddy Conlon dealing with his two martial-arts competing sons (estranged brothers) (Tom Hardy and Joel Edgerton)
82 year-old Max von Sydow (with his 2nd Oscar nomination overall, following a Best Actor nomination in 1988, with no wins) for Extremely Loud & Incredibly Close, as the unnamed character called The Renter, who offered support non-verbally (through a notepad and a 'yes' and 'no' on his palms) to precocious child protagonist (Thomas Horn)
The Best Supporting Actress category had only one returning Oscar nominee and four first-time nominees. The category was won by 41 year-old African-American actress Octavia Spencer (with her first nomination) for The Help, as black 'help' maid and talented chef/pie-maker Minny Jackson. The other Best Supporting Actress nominees were:
35 year-old Argentine-French actress Bérénice Bejo (the wife of the film's director) (with her first nomination) for The Artist, as silent film fan and rising female star-ingenue Peppy Miller
30 year-old Jessica Chastain (with her first nomination) for The Help, as 'white trash' bottle blonde Celia Foote from an impoverished background, married to Johnny Foote (Mike Vogel), and the naive employer of smart-mouthed black maid/cook Minny Jackson (fellow-nominee Octavia Spencer)
41 year-old Melissa McCarthy (with her first nomination) for the ribald comedy Bridesmaids, as sex-hungry, raunchy and obnoxious future sister-in-law bridesmaid Megan [Note: It has been rare in Academy history to have nominations for comedies, and especially female comedic roles.]
50 year-old British actress Janet McTeer (with one previous Best Actress nomination in 1999, with no wins) for Albert Nobbs, as Hubert Page, a cross-dressing woman passing as a man (a housepainter who was married to another woman); he was a kindred spirit and inspirational role model for co-star Albert Nobbs (Glenn Close)
Oscar Snubs and Omissions:
Tilda Swinton for director Lynne Ramsay's We Need to Talk About Kevin, as Kevin's (Ezra Miller) deeply-troubled, psychopathic mother Eva Khatchadourian of a murderous child
Michael Fassbender for director Steve McQueen's NC-17 rated UK drama Shame, as sex-addict Brandon Sullivan
Leonardo di Caprio for director Clint Eastwood's biopic J. Edgar (without nominations), as FBI head J. Edgar Hoover
Shailene Woodley for The Descendants, as 17 year-old daughter Alexandra ("Alex"), who revealed that her dying comatose mother Elizabeth was having an affair
David Fincher, the un-nominated director of The Girl With the Dragon Tattoo, also devoid of a Best Picture nomination
Andy Serkis, as lead ape Caesar, a performance-capture role in Rise of the Planet of the Apes
Albert Brooks and Ryan Gosling for the violent action-drama heist thriller Drive (with only one nomination Best Sound Editing), as villainous mobster Bernie Rose, and as the unnamed Driver
Ryan Gosling, shut out of a nomination for his role as deputy campaign manager Stephen Meyers in the George Clooney-directed political thriller The Ides of March (with only one nomination, Best Adapted Screenplay)
Charlize Theron for director Jason Reitman's dark comedy Young Adult (without nominations), as self-absorbed, unapologetic divorced late 30s ghost writer Mavis Gary; also co-star and stand-up comic Patton Oswalt wasn't nominated as crippled, sad loner Matt Freehauf
Best Original Screenplay nominations for Diablo Cody's Young Adult, and Terrence Malick's The Tree of Life
The finale of the long-running Harry Potter film franchise, Harry Potter and the Deathly Hallows, Part 2, the highest-grossing film of 2011, came up without a Best Picture or Best Adapted Screenplay nomination; however it did receive nominations for Best Visual Effects, Best Makeup, and Best Art Direction
Two high-profile animated films lost out as nominees in the Best Animated Feature Film category: Disney/Pixar's Cars 2, the sequel to the 2008 film (this effectively ended Pixar's long-streak of over a decade), and director Steven Spielberg's The Adventures of Tintin, a performance motion-capture 3-D film based on the Tintin series of comic books
director Paul Feig's (and producer Judd Apatow) gross-out wedding comedy Bridesmaids was lacking a Best Picture nomination, although it was one of the biggest, mainstream, popular box-office hits of the year. The picture received two nominations: one for Melissa McCarthy who was recognized with a Best Supporting Actress nomination, and co-writer/co-star Kristen Wiig also received a Best Original Screenplay nomination
the directorial debut of actress Angelina Jolie for In the Land of Blood and Honey was considered as a strong Foreign Language Film contender, but it wasn't to be