2003
The winner is listed first, in CAPITAL letters.
Best Animated Feature Film


FINDING NEMO (2003)


Brother Bear (2003)


The Triplets of Belleville (2003, Fr.) (aka Les Triplettes de Belleville)
Actor:
SEAN PENN in "Mystic River, "Johnny Depp in "Pirates of the Caribbean: The Curse of the Black Pearl," Ben Kingsley in "House of Sand and Fog," Jude Law in "Cold Mountain," Bill Murray in "Lost In Translation"
Actress:
CHARLIZE THERON in "Monster," Keisha Castle-Hughes in "Whale Rider," Diane Keaton in "Something's Gotta Give," Samantha Morton in "In America," Naomi Watts in "21 Grams"
Supporting Actor:
TIM ROBBINS in "Mystic River," Alec Baldwin in "The Cooler," Benicio Del Toro in "21 Grams," Djimon Hounsou in "In America," Ken Watanabe in "The Last Samurai"
Supporting Actress:
RENEE ZELLWEGER in "Cold Mountain," Shohreh Aghdashloo in "House of Sand and Fog," Patricia Clarkson in "Pieces of April," Marcia Gay Harden in "Mystic River," Holly Hunter in "Thirteen"
Director:
PETER JACKSON for "The Lord of the Rings: The Return of the King," Fernando Meirelles for "City of God," Sofia Coppola for "Lost In Translation," Peter Weir for "Master and Commander: The Far Side of the World," Clint Eastwood for "Mystic River"
---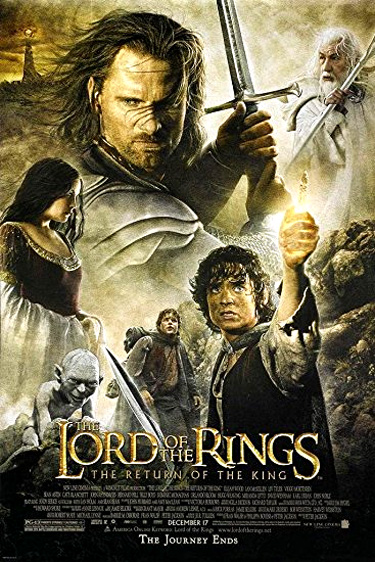 The big winner this year was a predictable favorite - New Zealander director Peter Jackson's majestic fantasy - the final chapter in New Line's franchise of trilogy films: The Lord of the Rings: The Return of the King. It led the nominations race with 11 nominations (mostly in technical categories), including Best Picture and Best Director, and achieved a clean sweep with 11 Oscar wins. Its 11 wins tied it with two other blockbuster films, Ben-Hur (1959) (with 12 nominations) and Titanic (1997) (with 14 nominations).
This was the first time a film received that many nominations without any acting recognition. And it is one of ten films in Oscar history that won Best Picture without receiving a single acting nomination. It was also the first fantasy film to ever win the top Oscar prize. The film grossed $1 billion in just 9 weeks and 4 days, a new record, and it was the top grossing film of its year, at $377 million (domestic) and $1.1 billion (worldwide).
The Lord of the Rings: The Return of the King joins two other Best Picture winners that have experienced clean sweeps - they have won every award for which they were nominated (and none of the films were nominated for acting awards!) - and Rings topped them all with more wins:
Gigi (1958) - 9 for 9
The Last Emperor (1987) - 9 for 9
Besides Best Picture and Best Director, its other nine wins were Best Original Music Score, Best Song ("Into the West"), Best Visual Effects, Best Sound, Best Film Editing, Best Art Direction, Best Costume Design, Best Makeup, and Best Writing (Adapted Screenplay) (for the script based on J.R.R. Tolkien's fantasy classic). It was the first Best Picture winner since WWII that had a credited female screenwriter - it was co-written by Fran Walsh and Philippa Boyens.
The film was the second film trilogy in Oscar history (after Francis Ford Coppola's Godfather pictures in 1972, 1974, and 1990) to have all three of its movies nominated for Best Picture - and the only one to have its third installment win the top prize. It was also the third sequel in Oscar history to be nominated for Best Picture, taking its place after The Bells of St. Mary's (1945) - which lost, and The Godfather, Part II (1974) - which won. [Note: It should be noted that a second 'sequel' The Godfather, Part III (1990) was also nominated for Best Picture - and lost; similarly, the original 'sequel' The Lord of the Rings: The Two Towers (2002) was also nominated for Best Picture - and lost.]
This film's clean-sweep was thought to be in recognition of the entire trilogy. In regards to the three parts of the Rings trilogy, the series had a total of 30 nominations and a total of 17 Oscar wins:
2001, the first chapter of The Lord of the Rings won 4 of its 13 nominations (Best Cinematography, Best Makeup, Best Original Score, and Best Visual Effects)
2002, the second chapter of The Lord of the Rings won 2 of its 6 nominations (Best Sound Effects Editing, Best Visual Effects)
2003, the third chapter of The Lord of the Rings won 11 of its 11 nominations
Two other Best Picture nominees were major contenders (Trivia Note: there were no acting nominations among the casts of the top three nominated films):
Best Director-nominated Peter Weir's Napoleonic era seafaring adventure-epic Master and Commander: The Far Side of the World (with 10 nominations and only two wins (Best Cinematography and Best Sound Editing)), the year's runner-up film
Gary Ross' uplifting, true-life, Depression-era horse-racing drama Seabiscuit (with seven nominations and no wins) from the previous summer
The other two Best Picture nominees were smaller films:
Clint Eastwood's brooding, tragic and somber murder/mystery thriller Mystic River (with six nominations - including three performance nods and two male performance Oscar wins by Sean Penn and Tim Robbins) adapted by screenwriter Brian Helgeland from Dennis Lehane's novel [Note: The last film to win both Best Actor and Best Supporting Actor Oscars was Ben-Hur (1959), 44 years earlier]
Sofia Coppola's quirky but wistful tale about two lonely Americans in Tokyo, Lost in Translation (with four nominations and only one win - Coppola's own Best Original Screenplay)
Pixar's $340-million, computer-animated blockbuster Finding Nemo (with four nominations and one win), the year's highest-grossing film and thought at one time to be a possible Best Picture nominee, was the Oscar-winner for Best Animated Feature Film. (The other nominees were Brother Bear and Sylvain Chomet's beguiling, inventive French film The Triplets of Belleville, also with an Oscar-nominated song, Belleville Rendez-vous.)
Of the five Best Picture nominees, unlike the previous year, only Rings was released in the last month of the year. Also, four of the pictures had their directors nominated, except for Gary Ross, for Seabiscuit. The fifth nominated director was Fernando Meirelles (with his first nomination) for the semi-documentary, sub-titled (Portuguese-language) Brazilian film City of God (with four nominations) - a broad, violent look at drug gang wars inside a Rio de Janeiro slum. [When submitted by Brazil for last year's Oscar race, it failed to receive a Best Foreign Film nomination. Miramax kept this 2002 film alive by opening it in January 2003 - in order to make it eligible in other Oscar categories, and the film was maintained in limited release for much of the year.] (This unusual kind of nomination has happened before - one foreign-language Best Director nomination unexpectedly thrown in (e.g., Federico Fellini for 8 1/2 (1963), Constantine Costa-Gavras for Z (1969), Jan Troell for The Emigrants (1972), Ingmar Bergman for Fanny and Alexander (1983), Krzysztof Kieslowski for Red (1994), and Ang Lee for Crouching Tiger, Hidden Dragon (2000)).)
32 year-old Sofia Coppola was only the third (and the youngest!) woman ever to be nominated for Best Director - and this was for her second film (following The Virgin Suicides (1999)). (The others, both unsuccessful, were Lina Wertmuller for Seven Beauties (1976) and Jane Campion for The Piano (1993). Coppola became the first American woman nominated for director. Coppola joins Campion as the only other female director to have been nominated for Best Picture and Best Director.) She was also nominated for a third Oscar for her film - Best Original Screenplay - and this was her only win this year.
Sofia Coppola's win made her part of the second family of three-generation Oscar winners (her father is a five-time winner and her grandfather, Carmine Coppola, won for musical score on The Godfather Part II (1974)), following the example of the Huston family (Walter, John, and Anjelica). In addition, Sofia Coppola's cousin is Oscar-winning Nicolas Cage. [Another second-generation nominee was Samuel Goldwyn, Jr., who earned a nomination for producing Master and Commander: The Far Side of the World - he's the son of Samuel Goldwyn, Sr., who produced the Best Picture winner The Best Years Of Our Lives (1947).]
With his second Best Director nomination, Peter Jackson won the Best Director Oscar for his acclaimed film. He had received a Best Director nomination two years earlier for the first part of the trilogy, The Lord of the Rings: The Fellowship of the Ring (2001), but lost, and he was overlooked for the second film. Jackson also co-won the Oscar for Best Adapted Screenplay, and an Oscar for producing the film - in total, a 3 Oscar-win 'hat-trick.' Along with Jackson, Fran Walsh became the first woman to receive three awards for the same film, winning in the Best Picture, Original Song, and Writing categories.
Regarding the other Best Director nominees - Clint Eastwood received his sole Best Director Oscar eleven years earlier for Unforgiven (1992). Australian Peter Weir's nomination for Master and Commander: The Far Side of the World was his fourth as Best Director (previous nominations were for Witness (1985), Dead Poets Society (1989), and The Truman Show (1998)). Although Gary Ross was nominated for Best Original Screenplay honors twice before (for Big (1988) and Dave (1993)), this was his first Best Picture nomination.
In all of the acting nominations, newcomers or first-time nominees made up 10 of the 20 spots, often in debut films for various directors. They were competing against big-name actors - many of whom appeared in small films. An array of international locales were represented among the nominees - Iran, Japan, New Zealand, Puerto Rico, West Africa, etc. All of the acting winners were first-timers in their categories.
Sean Penn (with his fourth Best Actor nomination and first win - he was previously nominated for Dead Man Walking (1995), Sweet and Lowdown (1999), and I Am Sam (2001)) won the Best Actor award as reformed ex-hoodlum and working class Boston father Jimmy Markum, who seeks revenge over his teenage daughter Katie's murder in Mystic River.
The other Best Actor nominees included:
Johnny Depp (with his first nomination) as a sly, tipsy buccaneer scoundrel and ship captain Jack Sparrow in director Gore Verbinski's top-grossing comedy swashbuckler Pirates of the Caribbean: The Curse of the Black Pearl
Ben Kingsley (with his fourth nomination and second Best Actor nod - he won the Best Actor Oscar for Gandhi (1982)) as Massoud Amir Behrani, a desperate exiled Iranian immigrant, former Air Force colonel, and patriarch fighting for possession of a seaside Bay Area California home in Russian filmmaker Vadim Perelman's debut feature film House of Sand and Fog
Bill Murray (with his first nomination) as Bob Harris, a faded, has-been American actor suffering a mid-life marital and personal crisis while shooting a TV commercial for Suntory whiskey in Tokyo, and finding a similarly unsatisfied, lonely-heart newlywed, non-judgmental late-night soulmate named Charlotte (un-nominated Scarlett Johansson) who together explore the strange and foreign world of Japan in Coppola's bittersweet romantic tale Lost in Translation
Jude Law (with his second nomination after a supporting nomination for another Minghella film The Talented Mr. Ripley (1999)) as Inman, an injured, stalwart Confederate deserter making his way home to his beloved sweetheart Ada Monroe (Nicole Kidman) in North Carolina in Anthony Minghella's war romance Cold Mountain
South African-born actress Charlize Theron (with her first nomination and Oscar win) won Best Actress as emotionally-damaged and abused real-life prostitute-turned-serial killer Aileen Wuornos in writer-director Patty Jenkins' crime drama (and feature film debut) Monster (with only one nomination - this one). She was the first-ever acting Oscar winner from South Africa, in a year when she and African-born Best Supporting Actor nominee Djimon Hounsou were the first African-born actors to be nominated for an Oscar.
The other Best Actress nominees included:
13 year-old Keisha Castle-Hughes (the daughter of an Australian father and Maori mother) (with her first nomination in a debut film role) as Paikea, a mystical, adventurous, and strong-willed New Zealand pre-teen girl who bucks indigenous tribal tradition and her grandfather to become leader of her Maori tribe in director Niki Caro's New Zealand family drama and mythical indie film Whale Rider; with her nomination, she became the youngest person ever to be nominated for lead actress [it was a surprise that her nomination was in the lead category]
58 year-old Diane Keaton (with her fourth Best Actress nomination - she won for Annie Hall (1977) - and has one acting nomination in four successive decades!) in a comeback romantic lead role as Erica Barry, a successful Broadway playwright unexpectedly romanced by two men (30-ish doctor Julian Mercer, played by Keanu Reeves, and swinging 50s executive Harry Langer, played by Jack Nicholson) in female writer-director Nancy Meyers' romantic comedy Something's Gotta Give
Samantha Morton (with her second nomination - she was previously nominated as supporting actress for her mute role as Sean Penn's girlfriend in Sweet and Lowdown (1999)) as Sarah Sullivan, a poor Irish immigrant mother who has illegally entered from Canada into the US (and a tenement building in NYC) in co-writer-director Jim Sheridan's semi-autobiographical In America
British-born and Australian-raised Naomi Watts (with her first nomination) as Cristina, a former and recovering drug addict, and strung-out, grief-racked wife and mother seeking vengeance after a car crash in Mexican filmmaker Alejandro González Iñárritu's first English-language film 21 Grams
Tim Robbins (with his first acting nomination and first performance Oscar) won the Best Supporting Actor Oscar for his performance as Dave Boyle, a deeply-disturbed man tormented and traumatized by childhood abuse (with a remarkable monologue about persecution by vampires), and suspected of murder as an adult in Mystic River.
The other Best Supporting Actor nominees were:
Alec Baldwin (with his first nomination) as Shelly Kaplow, a sleazy, fierce Las Vegas mob boss and casino owner in writer-director Wayne Kramer's debut film The Cooler
Puerto-Rican born Benicio Del Toro (with his second nomination - he won in this category for Traffic (2000)) as Jack Jordan, a conflicted, born-again ex-con whose efforts to go straight end in tragedy in 21 Grams
West African Djimon Hounsou (with his first nomination) as Mateo, a stand-offish, gruff, eccentric artist (neighbor of the Sullivans) dying of AIDS in In America
Japanese actor Ken Watanabe (with his first nomination in his debut American film role) as warrior-poet Katsumoto, a rebel samurai who battles Western influences among his feudal countrymen, but trains and mentors Nathan Algren (Tom Cruise) in the ancient traditions, in Edward Zwick's sweeping adventure period drama The Last Samurai [he became the first Japanese actor nominee for a performance Oscar in nearly 40 years - following Makoto Iwamatsu's nomination as Best Supporting Actor for The Sand Pebbles (1966), although Noriyuki "Pat" Morita's supporting nomination for The Karate Kid (1984) should also be counted]
Renee Zellweger (with her third consecutive nomination and first win) won the Best Supporting Actress Award for her role as Ruby, a chubby-faced, feisty, tough, and salty Confederate handywoman-farm girl who befriends neighbor Ada (Nicole Kidman) in Cold Mountain. The other Best Supporting Actress nominees were:
Iranian stage actress Shohreh Aghdashloo (with her first nomination) as Nadi Behrani (Ben Kingsley's wife), a compassionate, haughty, but vulnerable Iranian immigrant-wife in House of Sand and Fog
Patricia Clarkson (with her first nomination) as Joy Burns, an acerbic, sarcastic mother and cancer victim coping with breast cancer in writer-director Peter Hedges' directorial debut film Pieces of April
Marcia Gay Harden (with her second Best Supporting Actress nomination after an Oscar win for Pollock (2000)) as Celeste Boyle, a suspicious, terrified wife (married to fellow supporting nominee Tim Robbins) in Mystic River
Holly Hunter (with her fourth nomination and 2nd Best Supporting Actress nod - she won a Best Actress Oscar for The Piano (1993)) as Melanie, a frantic single LA mom losing control of her 13 year old defiant daughter Tracy (Evan Rachel Wood) in female director and co-writer Catherine Hardwicke's directorial debut film, the compelling coming-of-age drama thirteen
Director Blake Edwards, whose films included Breakfast at Tiffany's (1961), Days of Wine and Roses (1962), Experiment in Terror (1962), 10 (1979), Victor/Victoria (1982), That's Life (1986), and The Pink Panther movies, received an Honorary Oscar for career achievement.
Oscar Snubs and Omissions:
Although Miramax's heavily-financed Civil War saga Cold Mountain had seven nominations, it failed to get nominations for Best Picture, Best Director for Anthony Minghella (who won Best Director for The English Patient (1996)), or Best Actress for Nicole Kidman as prim Southerner Ada (it would have been her third consecutive Best Actress nomination). It did, however, have two performance nominations - for Jude Law and for the ultimate winner Renee Zellweger. [This ended Miramax's 11-year run (from 1992-2002) of having at least one Best Picture contender each year. This was the longest streak for any studio since the Academy limited the number of Best Picture nominees to five in 1944.]
Tim Burton's Big Fish (with one nomination) was sorely overlooked, as was director Ridley Scott's Matchstick Men, Gurinder Chadha's coming-of-age British sports (football/soccer) film Bend It Like Beckham (2002, UK) (that reached US audiences almost a year after its debut in the UK in 2002), Quentin Tarantino's Kill Bill: Vol. 1, Robert Benton's The Human Stain, Ron Howard's The Missing, Jim Sheridan's In America (although it had two acting nominations and a screenplay nomination) Norman Jewison's The Statement, David Gordon Green's All The Real Girls, the British romance anthology Love Actually, the biographical comedy-drama American Splendor, Thomas McCarthy's The Station Agent, Jane Campion's In the Cut, and Edward Zwick's The Last Samurai (with four nominations).
Lacking nominations:
Sean Astin and Ian McKellen for The Lord of the Rings: The Return of the King
Sean Penn for 21 Grams
Kevin Bacon for Mystic River
Robert Duvall for Open Range
Nicolas Cage for Matchstick Men
Meg Ryan and Mark Ruffalo for In the Cut
Paddy Considine for In America
19 year old Scarlett Johansson for Lost in Translation and Girl With a Pearl Earring
Anna Faris for Lost in Translation
16 year old Evan Rachel Wood for thirteen
Tom Cruise for The Last Samurai
Nicole Kidman, Natalie Portman and Philip Seymour Hoffman for Cold Mountain
Jennifer Connelly for House of Sand and Fog
Russell Crowe and Paul Bettany for Master and Commander: The Far Side of the World
Gwyneth Paltrow for Sylvia
Charlotte Rampling and Ludivine Sagnier for Swimming Pool
Keira Knightley for Pirates of the Caribbean: The Curse of the Black Pearl, for Love Actually, or for Bend It Like Beckham
Parminder Nagra for Bend It Like Beckham
Bill Nighy for Love Actually
Uma Thurman and Darryl Hannah for Kill Bill: Vol. 1
Zooey Deschanel for All the Real Girls
Philip Seymour Hoffman for Love Liza
Cate Blanchett for Veronica Guerin
Firmino Da Hora for City of God
Samantha Morton for Morvern Callar
Frances McDormand for Laurel Canyon
Cate Blanchett and Tommy Lee Jones for The Missing
Campbell Scott for The Secret Lives of Dentists
Nick Nolte for The Good Thief
Helen Mirren for Calendar Girls
Jamie Lee Curtis for Freaky Friday
Diane Lane for Under the Tuscan Sun
Jack Nicholson for Something's Gotta Give
Billy Bob Thornton, Tony Cox, and Brett Kelly for Bad Santa
Jack Black and Miranda Cosgrove for School of Rock
Michael Caine for The Statement
Hope Davis, Judah Friedlander, and Paul Giamatti for American Splendor
Maria Bello for The Cooler
Albert Finney and Jessica Lange for Big Fish
Val Kilmer for Wonderland
William H. Macy or Chris Cooper or Jeff Bridges for Seabiscuit
Peter Sarsgaard for Shattered Glass
Anna Deavere Smith and Anthony Hopkins for The Human Stain
Eugene Levy for A Mighty Wind
Peter Dinklage, Bobby Cannavale, and Patricia Clarkson for The Station Agent
Geraldine McEwan for The Magdalene Sisters
Rachel Weisz for The Shape of Things